Google Chrome is one of the popular desktop browsers, and it has taken a dominant position. Google chrome has plenty of features that make it a popular browser, and there are more than a billion people who are using Google Chrome. Being an SEO expert, there are higher chances that you may find or search new chrome extensions to boost your SEO strategy, if so, then you will be glad to know there are several Chrome SEO extensions are available that can help you to rank high, track performance, and view metrics of the progress.
With a couple of clicks, you can install SEO plugins, and you can improve your website ranking. Therefore, you have to learn it, how to use those SEO plugins but once you get it, you'll save your time in the long run.
# What Are Chrome Extensions?
Google Chrome extensions are typically programs, in order to change the functionality of your browser, you can install it into Chrome browser. The functionality of the browser means, adding or modifying the existing behaviour of the program to make it more convenient and efficient for the user. These programs are created by using web technology such as HTML, CSS, and JavaScript, etc.
The following are some examples of the type of functionality that Google Chrome extensions can incorporate into Chrome includes:
Blocking adverts from showing
Optimizing the memory to make Chrome run more efficiently
Managing passwords
Allows copying text from a site easier
Secure your privacy and make web surfing more secure etc.
# Chrome Extensions for SEO
In this post, I'll share the best Chrome extensions for SEO that you need to add to your web browser. Let's get started!
BuzzSumo Extension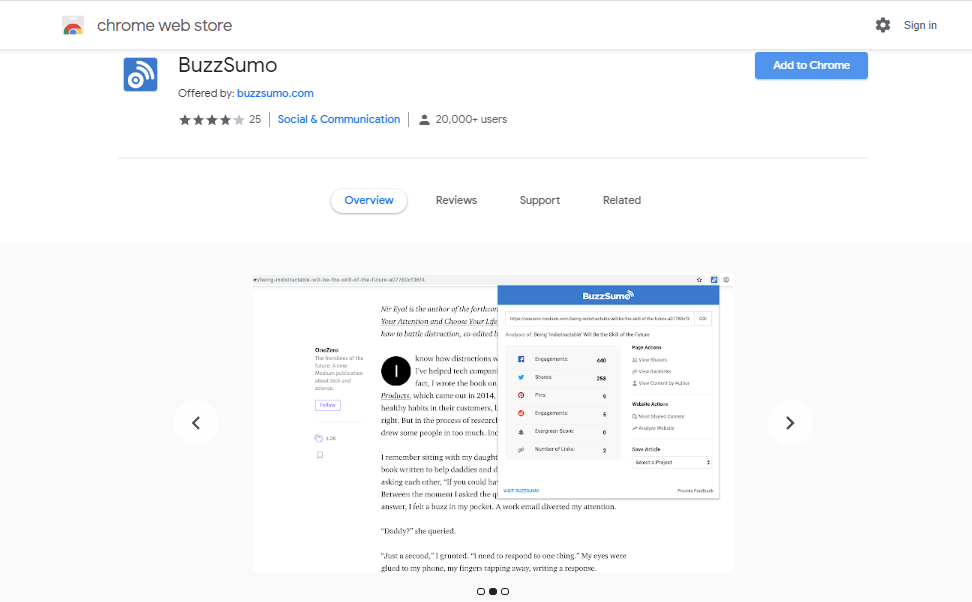 BuzzSumo extension is popular among users and one of the popular content marketing tools that enable you to search the most popular/shared or trending content online for any given concept/topic. With the help of BuzzSumo chrome extension, you can easily track shared and top-performing content on social media pages. You can also see how your competitor's content is performing, and it can be done through BuzzSumo extension.
You can even see all popular articles from that website, which is based on social sharing and backlink count. Basically, with this, you can have an idea about content that is trending, and you need to start producing.
Again, BuzzSumo Chrome extension is perfect for optimization techniques, and you can use it when you want to take your social media one step above.
MozBar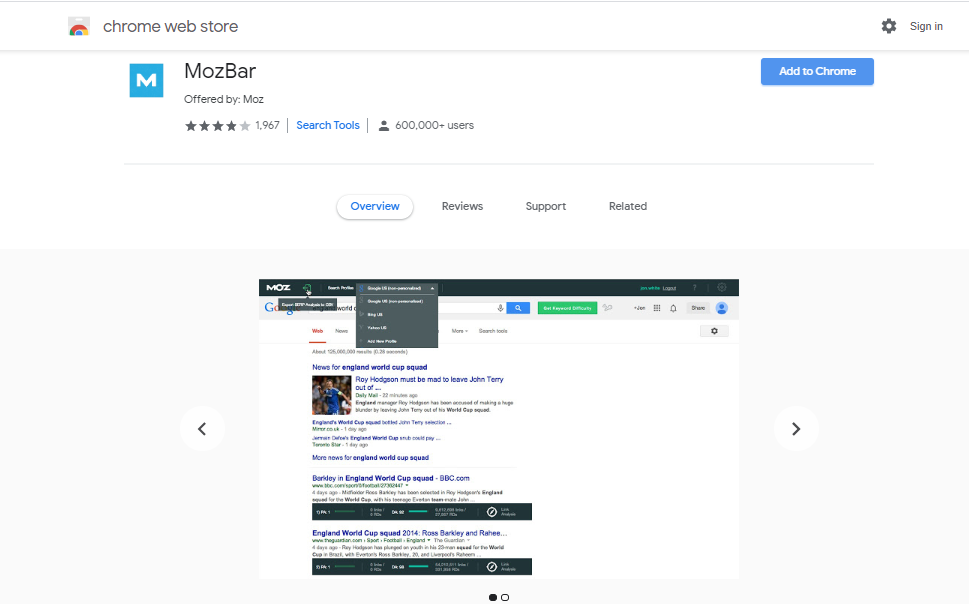 MozBar is an all-in-one tool, which can run a quick SEO site overview of any page, it is still one of the oldest and most popular chrome extensions for SEO in the market. From this extension, you will be able to see various backlinks metrics, website's domain authority and page authority.
This extension is very helpful when you browse the web and research any potential competitors, and when you go through their website you can easily locate their most authoritative pages that you want to analyze.
This SEO extension contains a list of analyses that covers technical SEO, social media engagement, on-site content, and backlinks. It will be better to enable MozBar when you want to assess a website's SEO metrics because it can cause your site to load a little slowly. When we consider SEO, then this toolbar is very useful when you need to find reliable resources to link within a post because with a single click you can get the trusted aspect of that page.
There are various built-in features are associated with this Chrome extension. Some of the most popular features are listed below:
Ability to create custom searches
Page authority and domain authority are quickly assessed
Access and compare any link metrics
The ability to identify and highlight keywords on a page
Export results from search engines
You can also choose a pro subscription for more features, otherwise, stay with the free version will also help you a lot.
vidIQ Vision for YouTube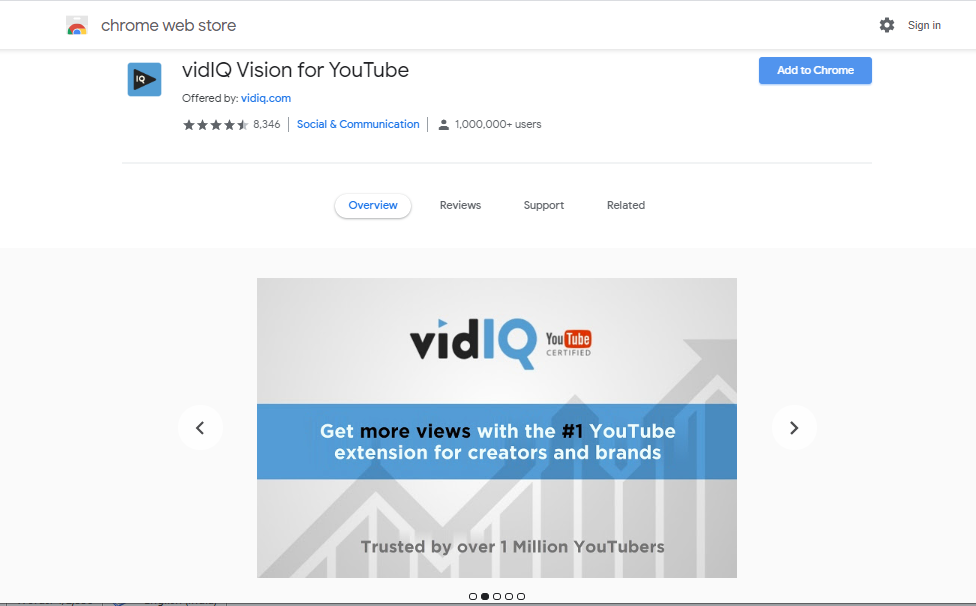 As the name implies, vidIQ vision is one of the leading YouTube SEO tools available in the market. You need to use this chrome extension if you want your videos to rank well on YouTube and generate more subscribers and views. This chrome extension goes beyond the YouTube analytics to offer you insights on how you can get more subscribers and views on your video. vidIQ helps you to perform channel audit so that you can have an idea what works with your content and what improvement you need to do.
With the help of vidIQ vision, you can see what your competitors are doing to rank well and for generating more views on YouTube. vidIQ comes with a variety of features such as vidIQ score, channel audit, and vidIQ competitors tools. You can also buy vidIQ to have more features and higher limits.
Page Analytics by Google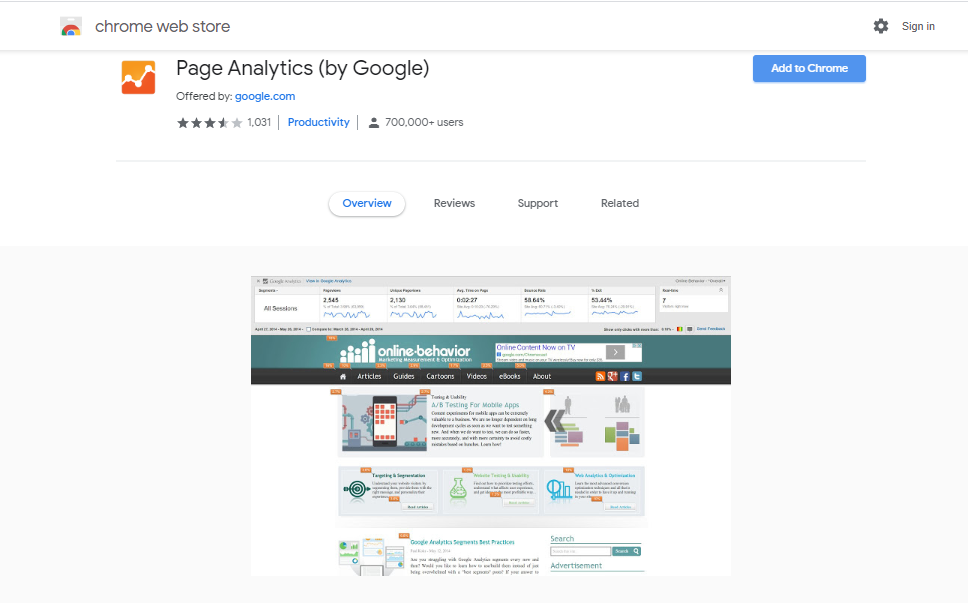 After launching a website, you'll be curious to know how the user behaves on your website. This is where Page Analytics (by Google) can help you to know how your users are interacting with your website. This tool will also let you know like where your customers click, engage the most and how many active visitors are on your website, with this you can optimize your site accordingly. It also shows you Google analytics metrics such as Pageviews, Average time on page, Unique Pageviews, and Bounce rate. If you depend on Google Analytics for traffic stats, then you must have this chrome extension.
SEOquake Chrome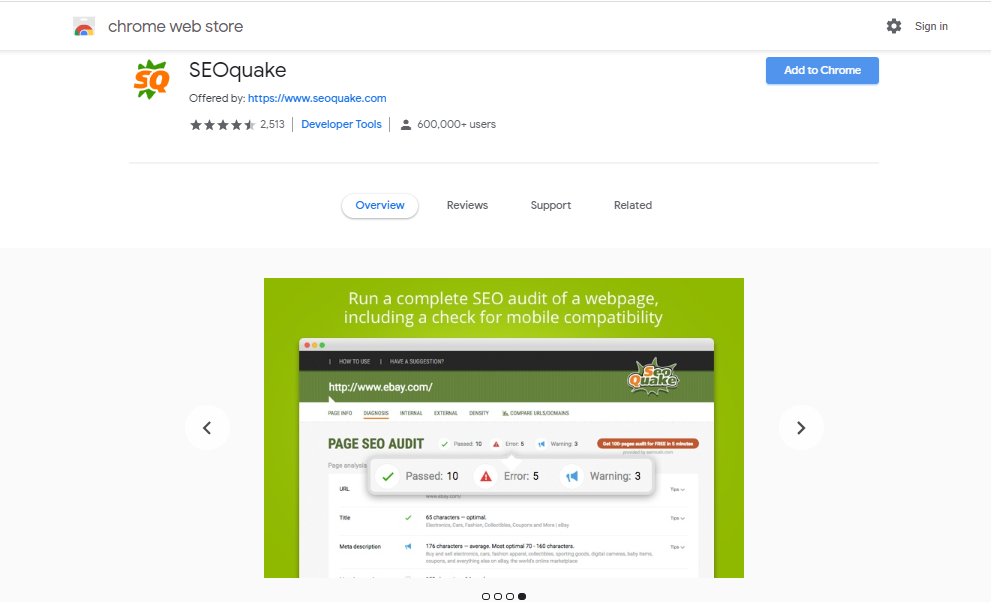 The list of chrome extensions for SEO will be incomplete without adding SEOquake, this is a chrome extension by SEMrush that helps to show the important metrics such as Google Index, Alexa rank, Bing index, and many more. This chrome extension is a well-maintained add-on and helps you to know all important aspects of SEO.
Basically, SEOquake helps you to get a detailed overview of your website. From there, you can also dive into your or competitor's optimization and it will show you:
A detailed report of internal or external links
URL comparisons
Keyword density
Mobile compatibility
A review related to all major metrics
WooRank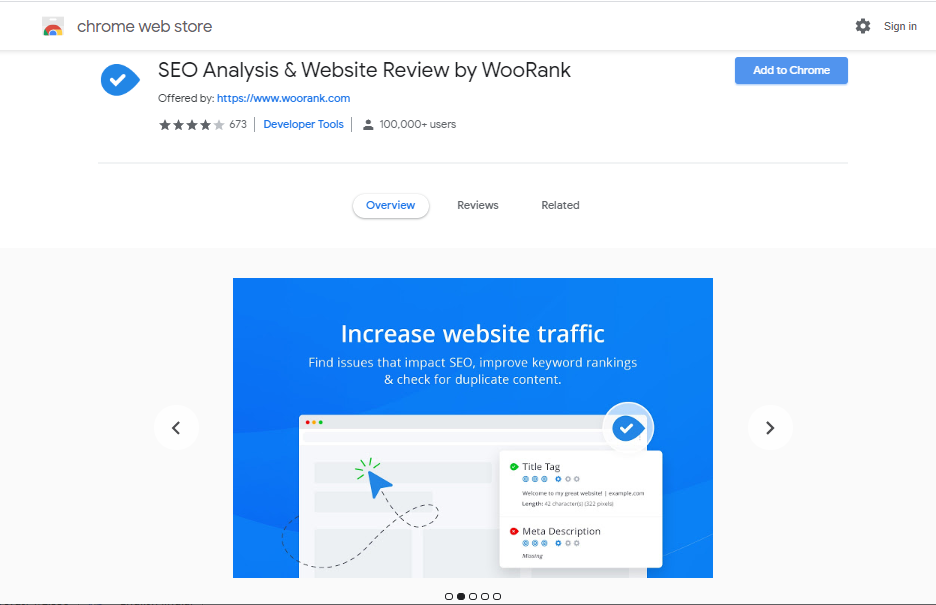 WooRank offers SEO & Website Analysis Chrome extension that helps to provide in detail SEO report for any given website. This chrome extension has various features that can help you to find a lot of things about any webpage. It also offers you on-page and off-page data such as title, meta description, meta keywords, headings, anchor text, and internal and external links, etc.
If you are interested to learn more about SEO or competitor's stats, then WooRank can help you. Usually, it provides data on:
SEO
Mobile-friendliness
Structured data
Website technologies
Social media
Website traffic
backlinks
Google Analytics URL Builder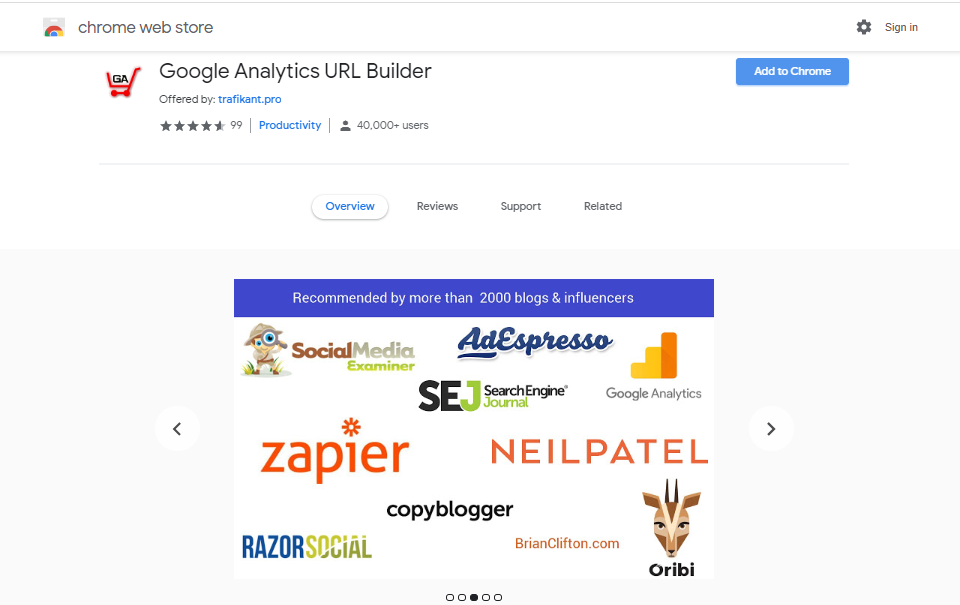 As you are aware of Google Analytics (GA) is a powerful tool that helps to track your website traffic.
With the help of Google Analytics URL Builder, you can tag the URLs that you want to be tracked in your Google Analytics campaign.
Bit.ly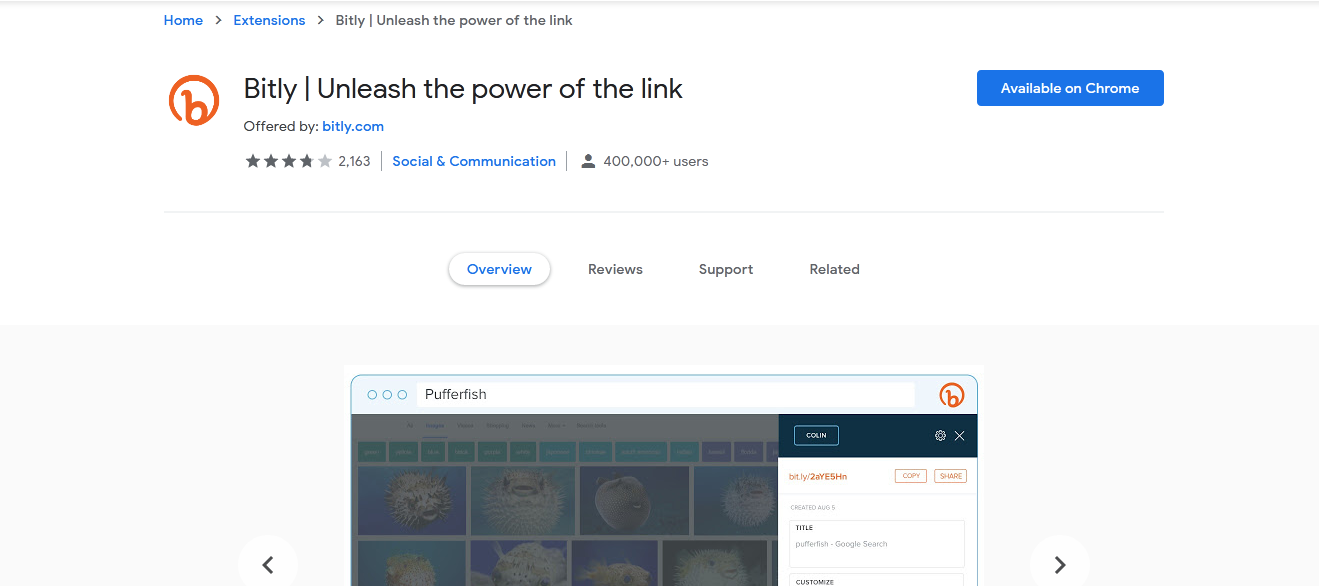 Bit.ly is one of the best URL shortener extensions among various URL shorteners. Basically, this chrome extension enables you to shorten the URLs quickly, and even you can track the number of clicks a link got.
TextOptimizer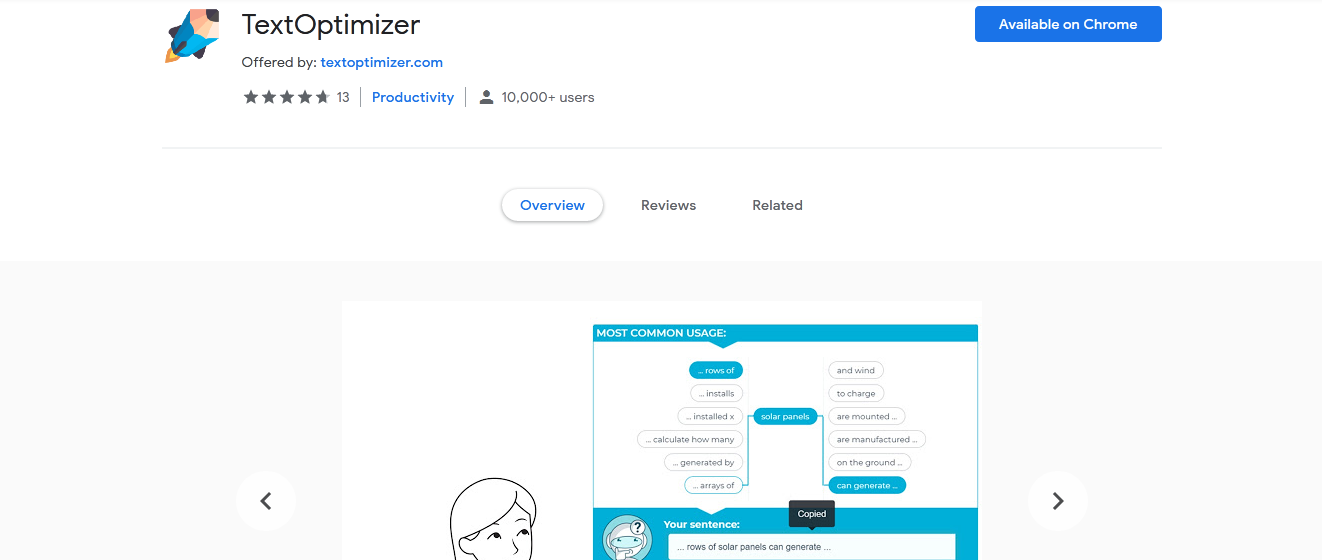 TextOptimizer is a writing assistant tool that analyses search results for relevant terms and selects "intent tables" to recommend certain words that you can use in your copy to better meet the expectations of search engines.
Basically, TextOptimizer helps you to know how your content will perform in search engines before you post it. Your written content will be divided into different types of search intent such as "compare", "go", and "buy". After this, your content will be shown on search results depend on whether it matches the potential intents of users.
TextOptimizer will analyze and classify your content, and then it will tell you whether your content meets the user's intent and suggest some changes if required.
TextOptimizer even a non-technical person can use as it is a less complicated tool as compared to others. TextOptimizer looks at the content and at the URL that is provided by you and compares it to Google SERPs. After analyzing and comparing, it will give you an optimization score between 0 to 100.
NoFollow Simple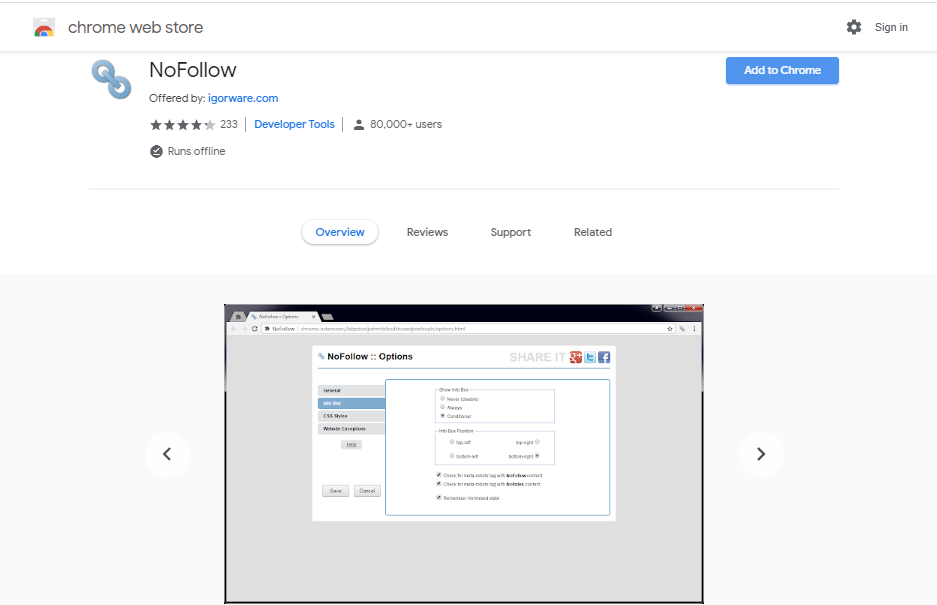 NoFollow is a super handy chrome extension that will outline NoFollow links on the web page and detect noindex Meta tags. The webpages you don't to be indexed such as landing pages- NoFollow identifies to see whether those pages are coded accurately and highlights those links that are not working correctly.
Some people say, "NoFollow links don't help in SEO", whereas some say that they still help in SEO.
The NoFollow tag can have a good impact on SEO, most of the webmasters use this tag not to follow untrusted content. Basically, you should manage your both links, i.e. both DoFollow and NoFollow links.
A simple way to get a high volume of traffic on your site by using quality and good links, and it can give your website a good amount of traffic. If you are using NoFollow links on Wikipedia that doesn't mean the link is not valuable. So, don't think what links you should use to improve SEO, just think about those links that can be valuable for your website, service or product. Use those links that can enhance or increase your brand authority.
SimilarWeb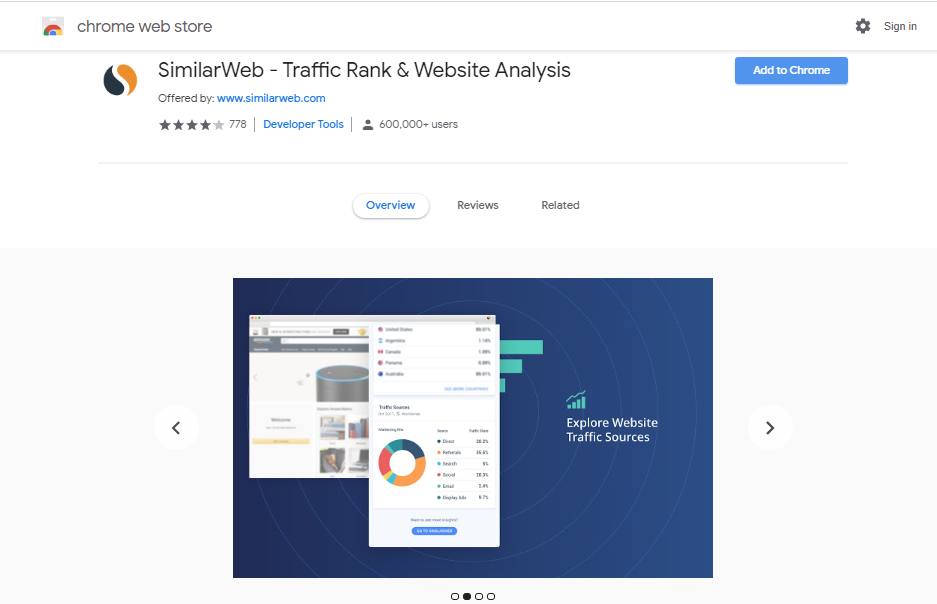 Generally, SimilarWeb is used for site analysis, and it takes all website traffic sources into account while performing site analysis, so that you can get in-depth SEO information. You can get detail information regarding traffic, bounce rate, and site time and many more.
This chrome extension is perfect for those who are looking for new and effective SEO strategies and for those who are interested to analyze different trends across the market.
It also helps you to see SEO metrics for your competitor's site, including traffic sources, engagement rates, keyword ranking and more.
Ahrefs SEO Toolbar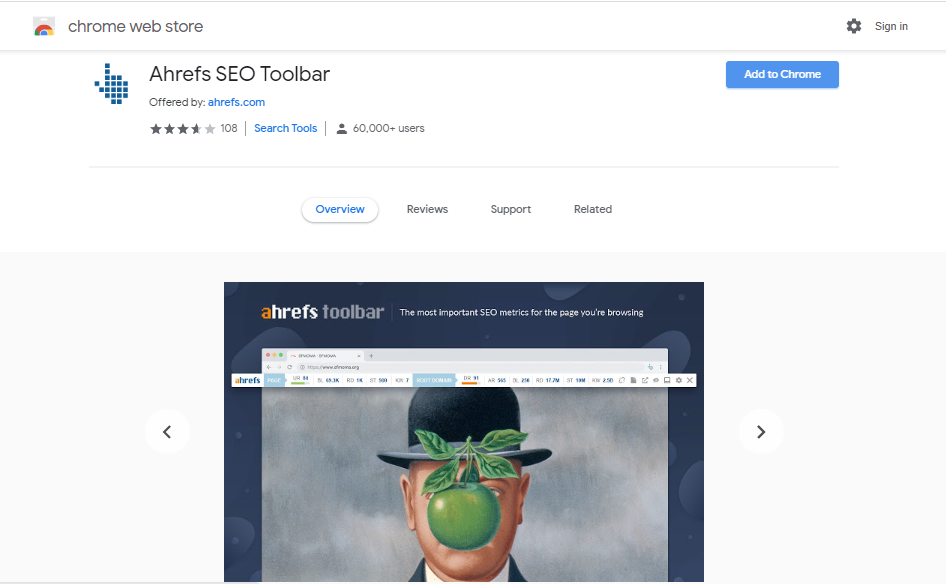 Ahrefs SEO Toolbar offers an on-page SEO report, redirect tracer, nofollowed link highlighter, and broken link checker. Ahrefs users can also get domain, page, and keyword metrics for visited URLs and search results.
Scraper Chrome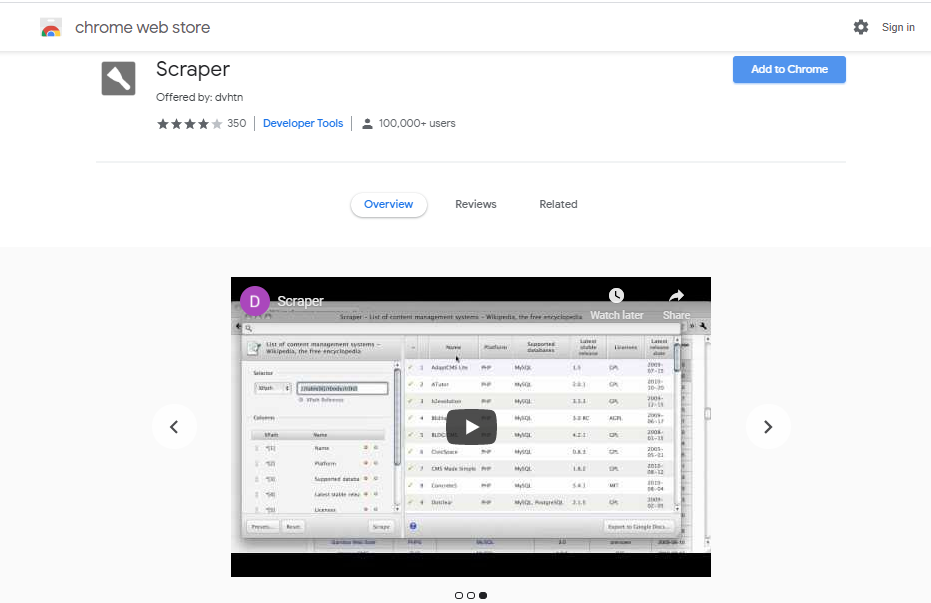 If you are an SEO, then you need to copy downlinks and written content from the web pages regularly. Basically, Scraper copies links or structured content from a web page that you can export to Google document later.
Data scraping helps you in competitive analysis and fetching data from your client's website like pulling out or extracting the titles, content categories and keywords.
With this, you can have an idea of which keyword is getting more traffic, which content type is attracting more links and user engagement, what type of resources can help to rank your site and so on.
# What to look before installing Chrome extensions for SEO?
Some chrome extensions are not safe for your browser, but not all of them are dangerous or malicious. As we know in this digital world, you may find various hackers who can attack your system through malicious extensions that can harvest your data. So, it will be better to pay attention to the permissions you allow extensions to have.
In a nutshell, there are various extensions that can be dangerous or can become dangerous. So, it will be your responsibility to look before even after installing chrome extensions. After installing any extension, you have to monitor them continually. The following are a few key things that you need to pay attention to:
Check the description
Whenever you go for installing any extension, you need to read its description and try to read its full description. Sometimes, we avoid reading a full description of an extension which can get us into trouble later. This is recommended because a few things that may be questionable, like tracking, or data sharing, etc. these details are not included by every extension but some extensions do.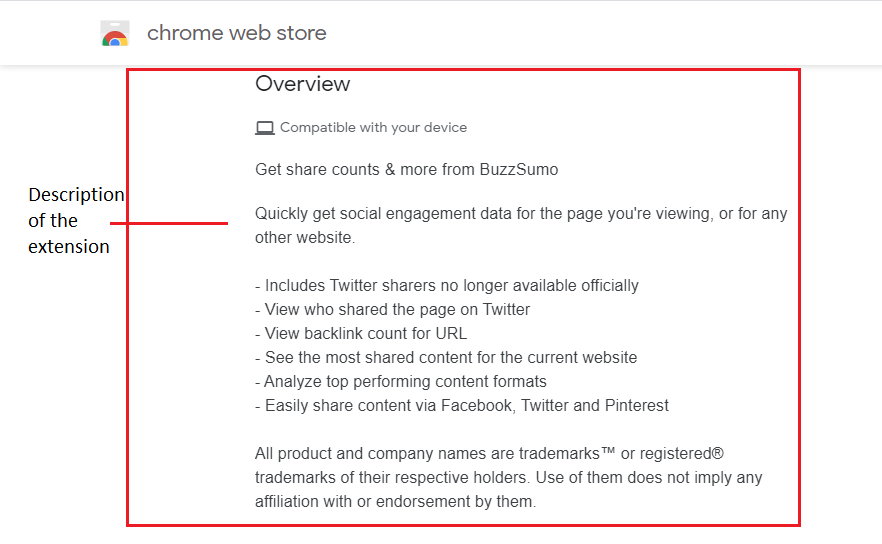 In the above example, we have taken the BuzzSumo extension with its description. Here you can see a full overview of the extension, you need to scroll while reading description because description contains in the small block.
Direct information
In this section, you'll see the information regarding:
The company or individual who has created it
Rating given by customers and the number of users who have rated it
Total number of users
Last updated date
The version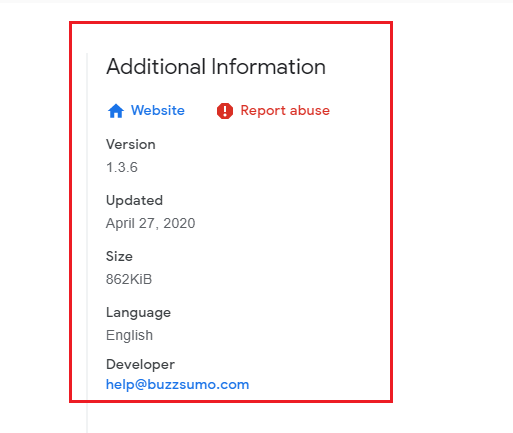 Both above examples are of BuzzSumo chrome extension.
May be still this information doesn't offer you the reliability of a company because some companies provide fake information, but you can make more searches on that company who offers this, to know more detail about the specific extension.
Check the customer reviews
Before making any purchase we usually check customer's reviews about a particular product. Similarly, before installing any extension you should check customer reviews because customers comment on what they experience. Maybe some of them are fake comments, but not all. With the help of their reviews, you can have an idea of what you should do. If you are satisfied with their comments then go for it, otherwise, you can leave and go for another alternative extension.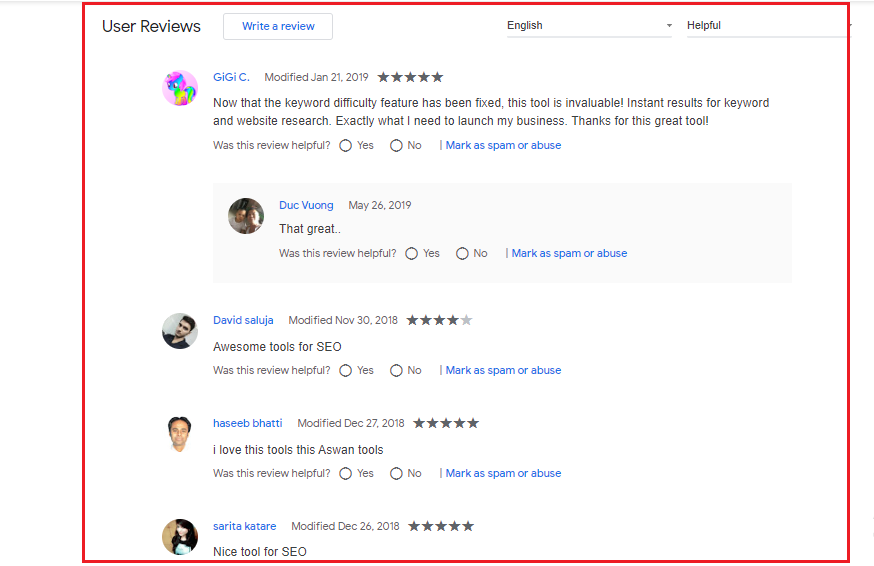 The above example shows the customer reviews of SEOquake Chrome extension.
Check the permission
You need to check the permission you are allowing to extensions before adding it to your browser. Some important factor you must consider:
All data on your computer and website you visit
Your data on all websites etc.
Whenever you are about to install the extension, it will first ask for permissions, so look out for all permissions before adding any extension.
The privacy policy
You will be able to view any extension's privacy policy page. All extensions will have a link to their privacy policy page. So, read all its privacy policy and you can find information whether it can track user or not.

In the above example, again we have taken SEOquake Chrome extension to make it clear to you and as you can see the privacy policy link is added, and if you want to view all privacy policies then you can click on it to view.