To achieve a higher ranking in a search engine's organic results, you need to run a process of On-page SEO. Your website is the main part of all SEO processes, and if your website is not accurately optimized for both search engines as well as users, you are missing lots of opportunities of getting a high volume of traffic from search engines.
Over the past few years, there is an increased focus on off-page techniques such as link building and other technical factors. But, the truth is, off-page SEO won't work well until you focus on the fundamentals of on-page SEO.
SEO practitioners should constantly work on on-page SEO and should be updated with the latest techniques of on-page SEO because the search landscape is constantly changing.
In this post, I'll discuss what on-page SEO is, why it matters and 7 important on-page SEO factors you need to know. Here we go!
# What Is On-Page SEO?
On-page SEO is also known as on-site SEO that refers to the practice of optimizing web page content for search engines and users as well to improve the website's search engine ranking and get organic traffic.
Furthermore, to post appropriate and high-quality content, on-page SEO includes optimizing title tags, internal links, content, images, and URLs. It also implies ensuring that your website has a high level of expertise, authoritativeness and trustworthiness.
It takes into consideration several elements of the webpage that, when added together, will help you to enhance your website' appearance in the search results.
# Why On-Page SEO Matters?
On-page SEO matters a lot because it helps search engines understand what your content is about and identify whether it is appropriate to a searcher's query.
During the process of indexing and ranking, search engines make an effort to associate webpages with keywords as well as search terms entered by users in the search box. With the help of on-page SEO, you can guide them for which keyword you want your webpage to rank.
With the increased complexity in search engines, there is a greater focus on semantics and relevance in search engine results pages (SERPs).
Furthermore, it is known as 'on-page' because any optimization changes help to a webpage contribute to better user experience.
Google, with its extreme complex algorithms, is now far better at:
Understanding the intent of the user's search when they type any query.
Producing the content as per the user's intent (shopping, informational, and navigational).
Adapting to this development is necessary, and it can be done by ensuring that your content and website both are well optimized. Besides, you can't overlook on-page SEO because you'll have more control when you optimize for on-site elements than off-page SEO that contains external links, e.g. backlinks.
If you make every effort on on-page strategies, you'll get a high volume of traffic and boost in your search presence.
This post will help you to know the most important factors of on-page SEO. If you consider these 7 important factors of on-page SEO, you could improve your content and authority, furthermore, boost your website traffic, ranking and conversions. Let's get started!
# 7 Important On-Page SEO Factors
Let's discuss the most important On-Page SEO factors that can help to boost site traffic, ranking as well as conversion: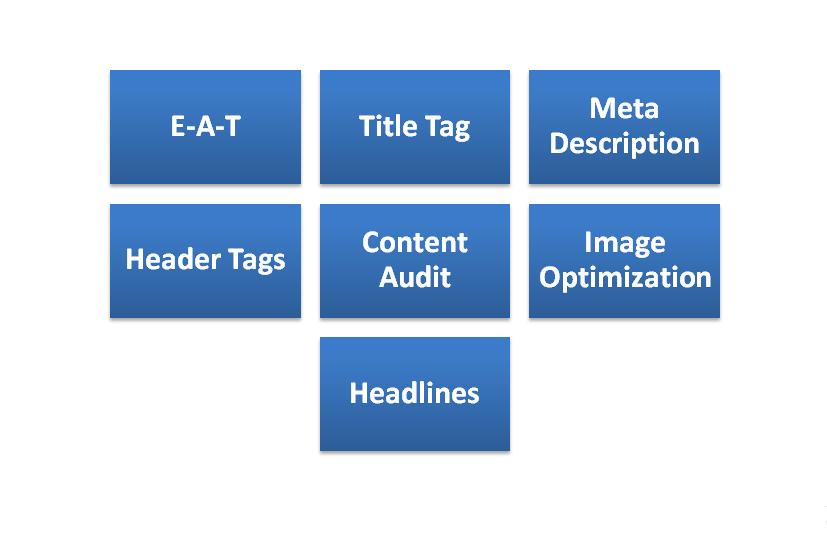 1. E-A-T

On-Page SEO Factors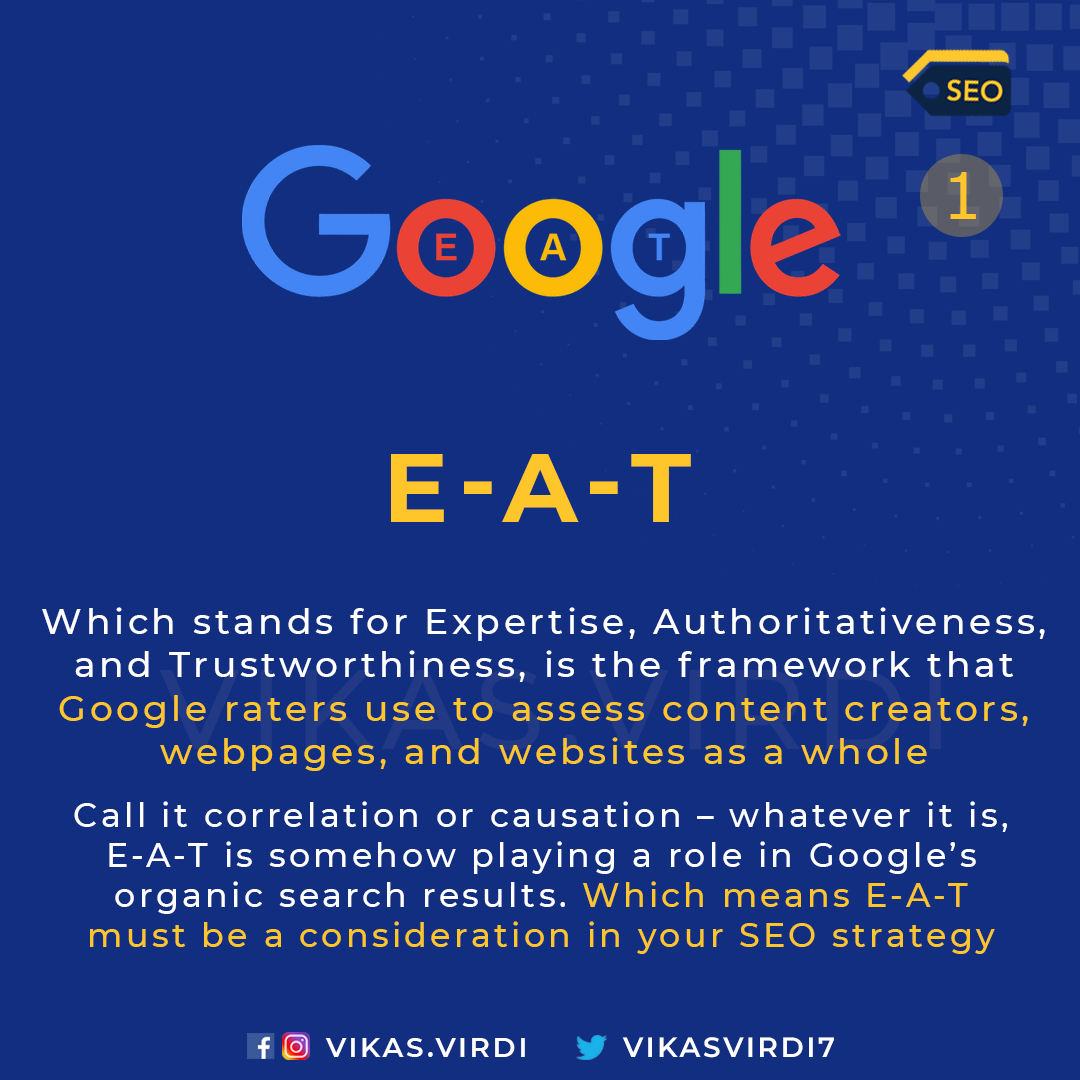 Now, from the above image, you'll have an idea of what E-A-T as – well! E-A-T stands for Expertise, Authoritativeness, and trustworthiness, is a framework that is used by Google raters to evaluate webpages, content creators, and website as a whole.
Google has placed a premium on high-quality content to ensure that websites delivering high-quality content are rewarded with higher ranking and sites that produce low-quality content gets less visibility.
Google gives higher ranking to those sites that create high-quality content. You can call it correlation or causation – whatever it is, E-A-T is contributing to Google's organic search results. In essence, you must consider E-A-T in your SEO strategy.
Let's discuss, each of these terms individually:
Expertise
Expertise means you need to showcase the necessary knowledge and understanding of the creator for the main content of your field to talk about a specific topic in-depth. Expertise is important for medical, legal, or financial websites and any website can show expertise if the content is trustworthy and useful for users.
Authoritativeness
You should show that you are the authority or authoritativeness of the creator for the main content. And if your page is a forum discussion or community, then having a quality conversation can drive authority.
Trustworthiness
You must show users that they can trust the creator or the company of the main content, the main content itself, and the website. Trust is important for those businessmen who run an eCommerce website where users need to submit their credit card information. Everything about your website needs to be safe for your users, so you must implement an SSL certificate on your website.
2. Title Tag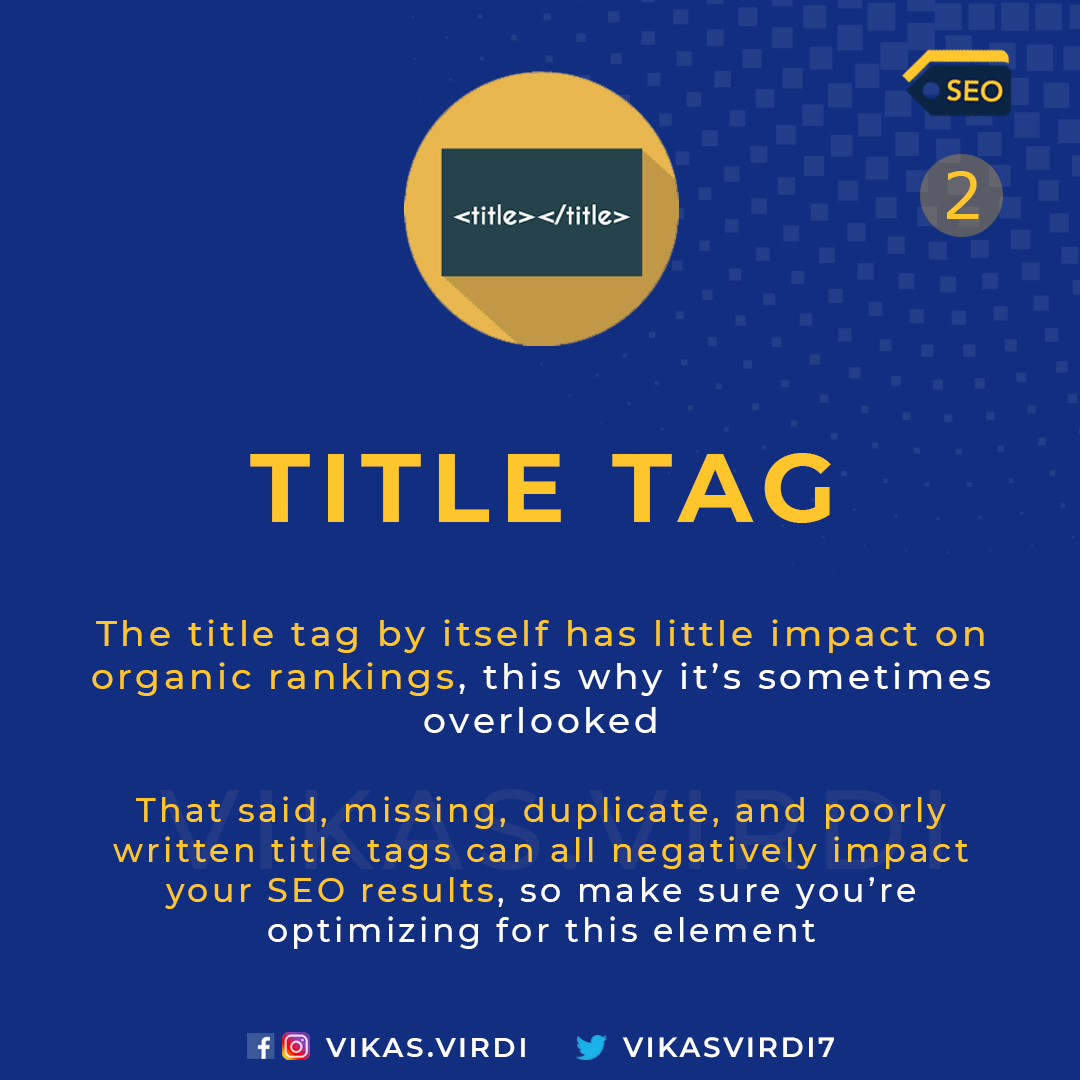 Well! You can clearly see in the image what can title tag do for your SEO results. Let's know more about title tag!
The title tag, an HTML tag that enclosed within the head section of each webpage that provides an accurate description of the page content. Search engines use it to show the main title of your webpage in search engine result pages and the browser window.
Ultimately, the title tag by itself has little effect on organic ranking, that's why sometimes it is overlooked.
Ensure that you're optimized for this element because missing, poorly written, and redundant title tags can have a negative impact on your SEO results.
Tips for page title optimization
Include keywords at the beginning of your page title
If it is possible, then include your target keywords to the beginning of the page title. This makes understand search engines that what keywords your page is targeting.
While adding your target keywords, keep one thing in your mind that don't go overboard, i.e. don't use so many keywords. If your target keyword doesn't seem fit at the beginning of your title, then you don't need to worry about anything because it happens. Just be sure that your target keyword is the part of your title.
Write a concise and descriptive title
An important thing is, don't use the too-long title, use below 60 characters for your title because this is the average amount of characters that are shown by Google in the search results.
No need to add your domain in the title
It is not necessary to include your domain name into the title because it will be done automatically by Google itself. Use 60 characters for your title to provide a relevant description of the page.
3. Meta Description
Meta descriptions have been crucial optimization point since the early days of SEO. Usually, Meta descriptions or Meta tags generate a description about the page and often display in the search engine result pages (SERPs) below the title of the page.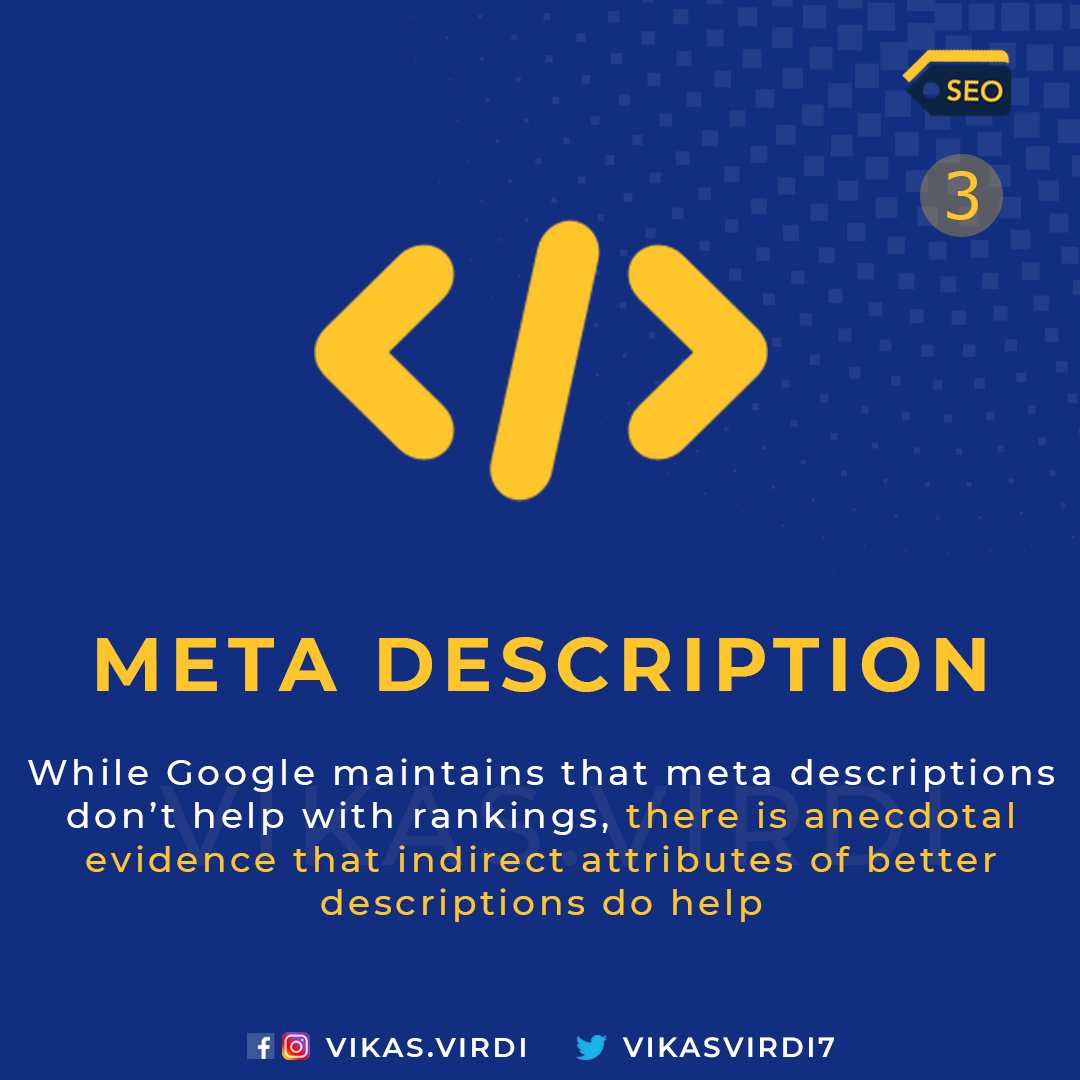 Accurately optimized Meta description helps to improve:
Click-through rate (CTR).
Perception of results quality.
Perception of what your website provides all changes.
Tips for Meta description optimization
Avoid using auto-generated descriptions
Although your description might not be used by Google, it's always a good practice to avoid using auto-generated descriptions because sometimes those descriptions don't make sense.
Include your target keywords in the description
When a user searches for any term, then Google highlights those terms in title and descriptions, so make sure you've used your target keywords in your title and descriptions because it makes descriptions more appealing and relevant to the searcher.
4. Header Tags On-Page SEO Factors
Header tags are used in HTML, that's why we call it HTML elements. These headers tags (H1-H6) used to recognize headings and sub-headings within the webpage's content from other types of text including paragraph text.
In a nutshell, header tags are not that important for your site ranking as they used to be, somehow, they still help for your users and your SEO.
To know how header tags can indirectly influence your website ranking, take a look at the below image: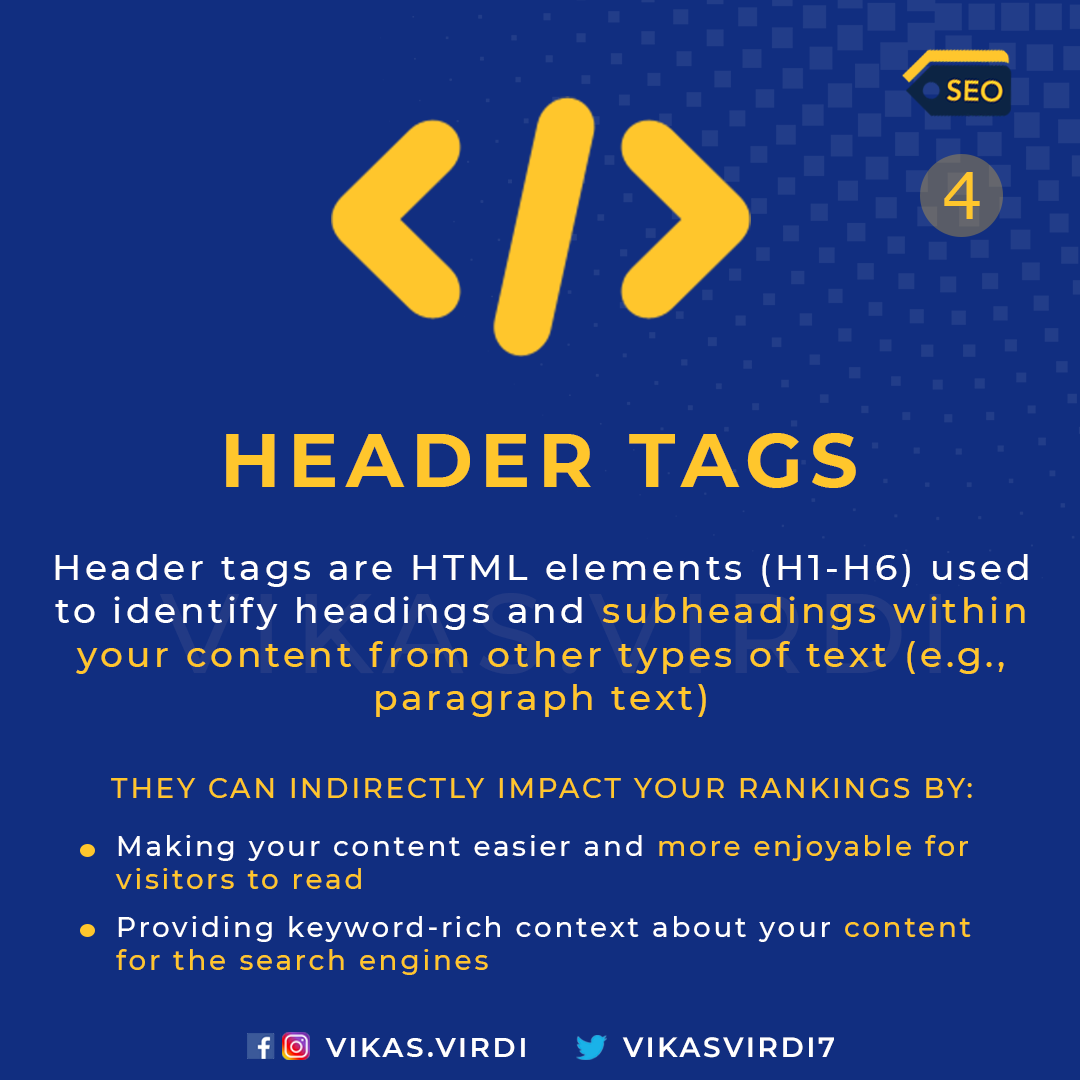 Each page should have only one H1 tag, and if you are using WordPress, then by default your title of the page will be wrapped into the H1 tag. But keep one thing in mind, search engines will always show in the results what they find in your title tag rather than in H1 tag. So, you should know the difference between these two, i.e. title tag and H1 tag.
While working with H2, H3, the things you need to have in mind are as follow:
Don't use a single word for a heading but ensure you are using impressive and useful headings for users that hook the audience, and they continue reading the full post.
Use hierarchy of headings such as the first heading <h1> and then <h2>, <h3>…<h6>.
In your sub-headings, you can use your related keywords in your content.
5. Content Audit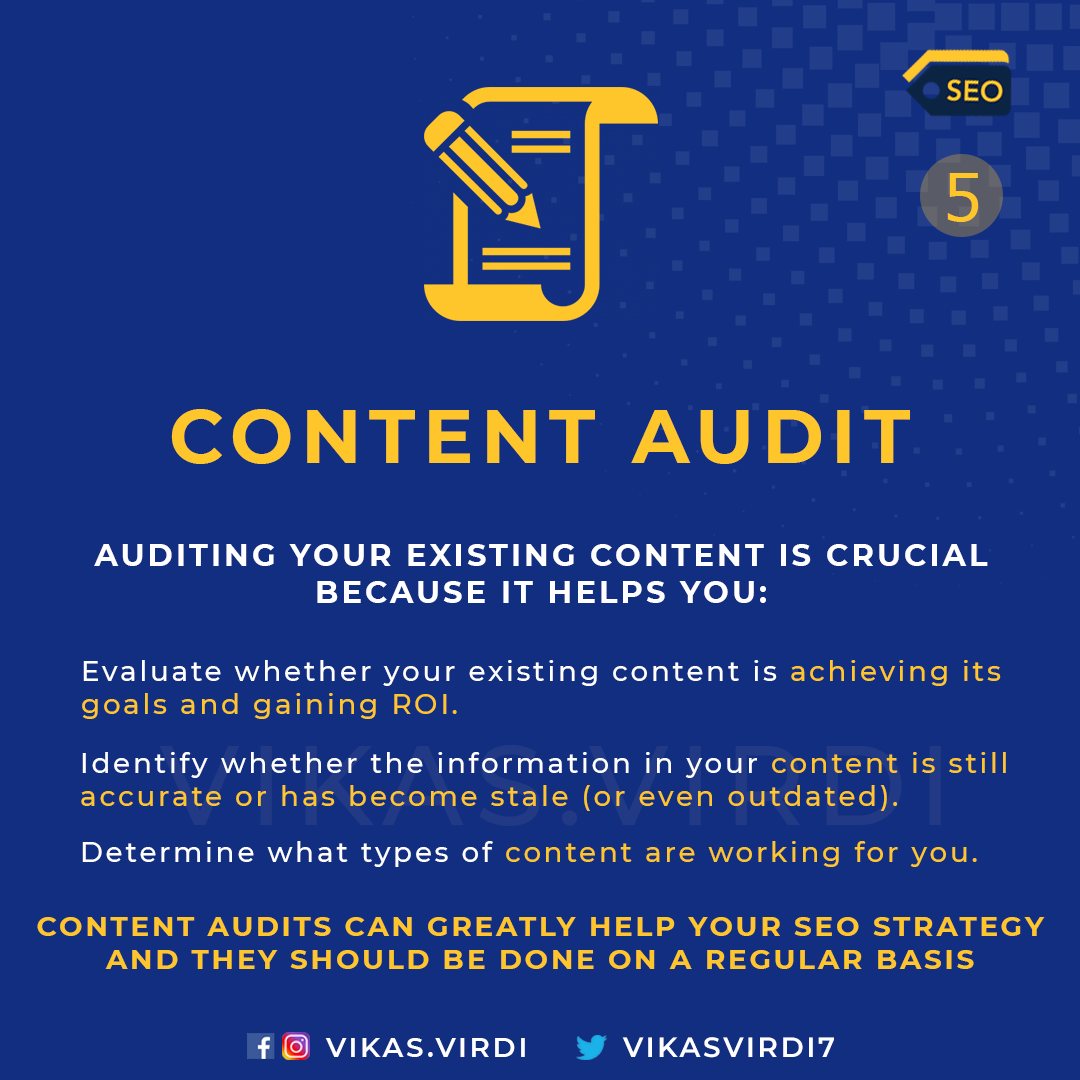 From the given image, you would understand what exactly content audit is and how it can help you.
Well! In a nutshell, when you only focus on creating new content but forget to pay attention to existing content, this is a mistake. Content auditing is important because it can help in:
If you are conducting a content audit, then you'll be able to identify the weak spot in your site's SEO. You can determine what changes need to be made to enhance your site's search performance by cataloguing the different keywords, optimized images, word counts and other aspects related to your content asset on your site and comparing them to your existing page ranking.
Another reason for conducting a content audit is to determine the current status of your content marketing efforts. You'll focus on page length, social shares, and visit metrics to determine how your audience is interacting and responding to the content that you've created.
6. Image Optimization
Adding images is a good idea to add value to your webpages, but all images are not created equally, as some images can slow down your website. Image optimization is important for SEO because it can make the most of valuable SEO asset.
Properly optimized images can offer you several advantages, take a look at the given image to know its advantages: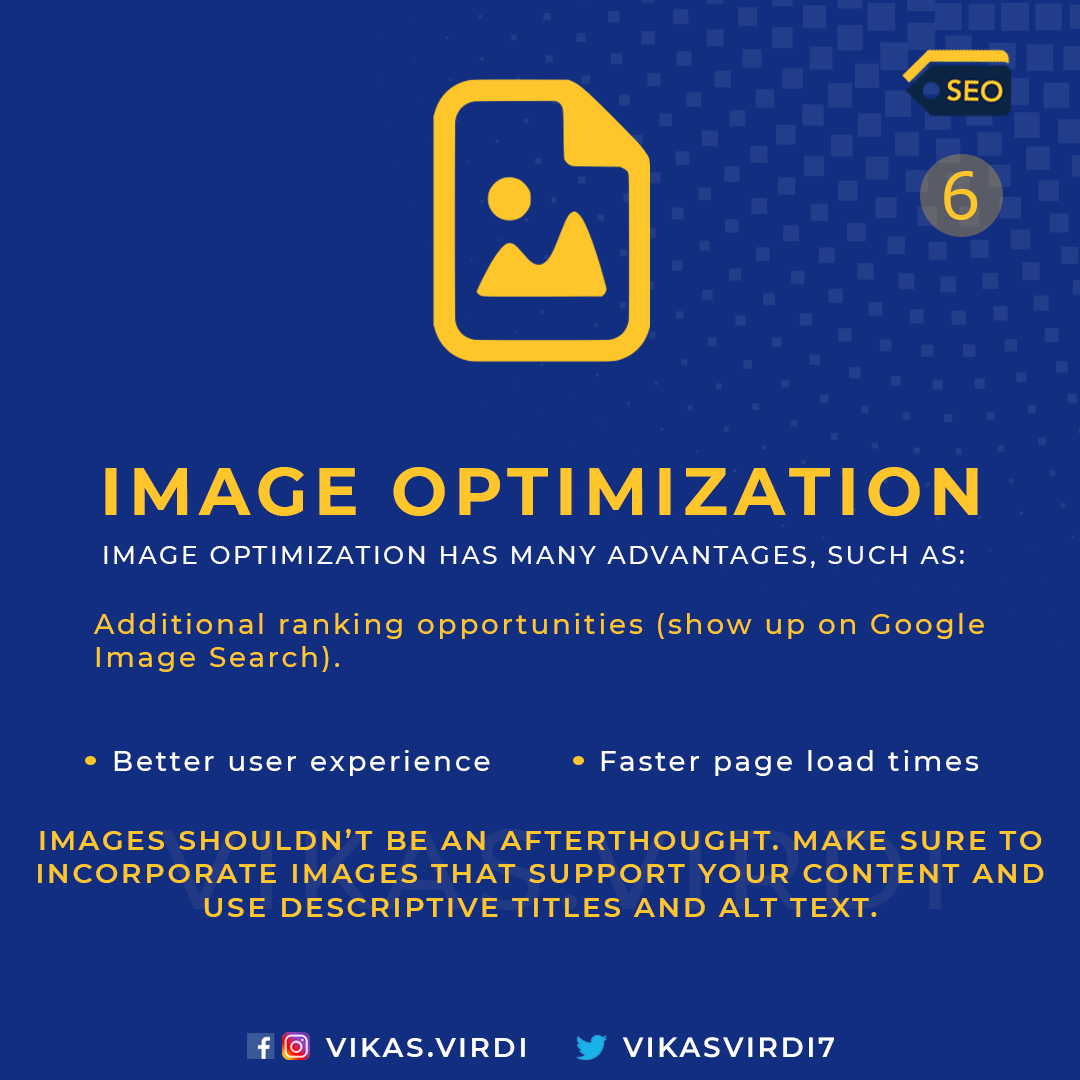 Before adding images into your content, ensure those images support your content and use descriptive titles and incorporate alt text.
Tips for optimizing images
Optimize the image size because the smaller the size of the image, it will be better.
Always use the alt tag to describe the image so that search engines understand what the image is about.
Don't use this 'img1.jpg' type of description of the image, it doesn't make any sense. Try to describe the filename in short. For example, you put an image showing a water filter, and then you can use 'water-filter.jpg'.
If you are using lots of images on a single page, then use the Content Delivery Network because it can help to make your page load faster.
7. Headlines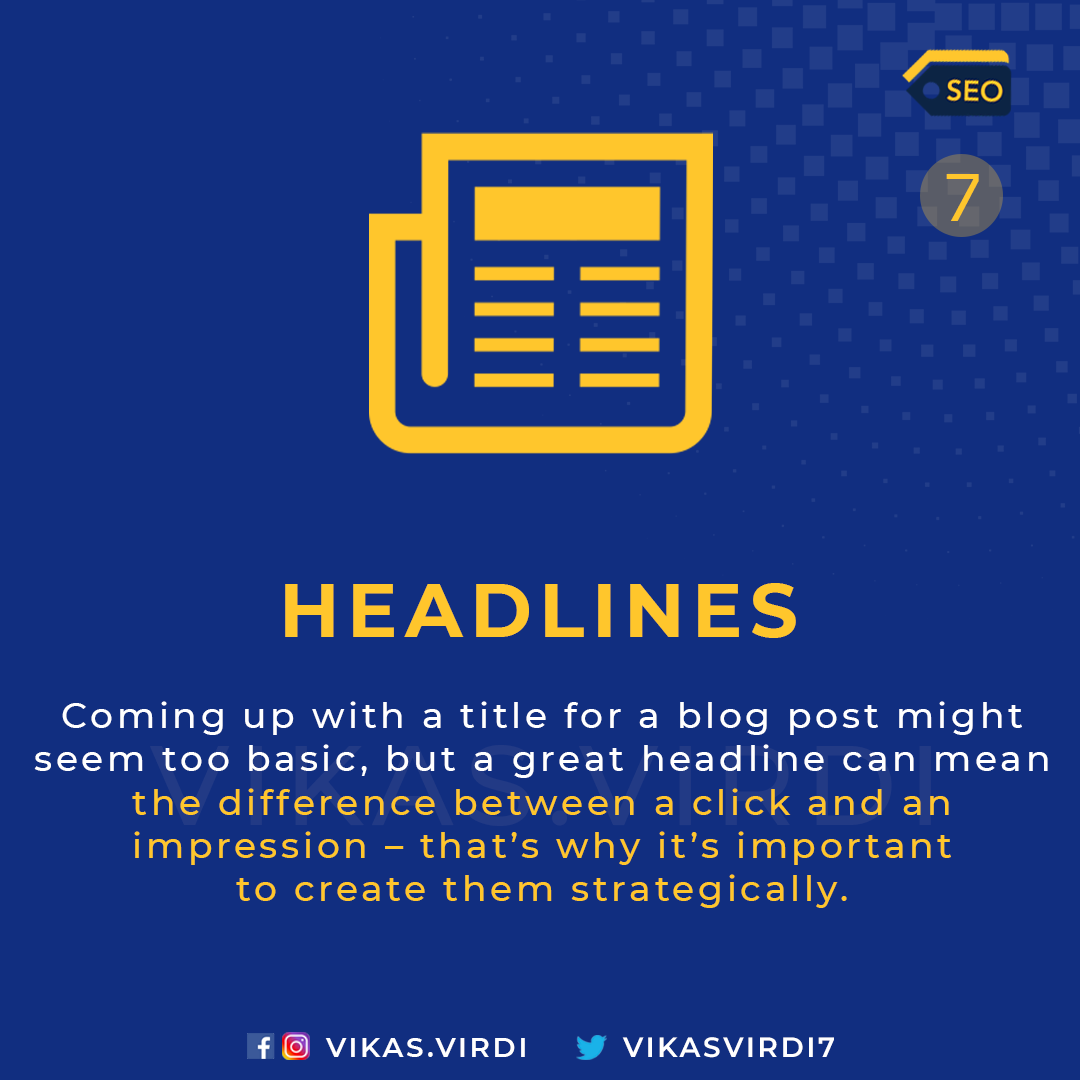 If you want your website content to perform well on search, then use convincing headlines that hook the audience. In brief, use headlines that can get the reader's attention or encourage the reader to read your post and hook your audience till the end of your blog post.
When you use catchy headlines, you can stand out from the crowd, and it will force your readers to click through and continue reading your entire content, that's why it is important to create impressive headlines.
Compelling headlines are important as much as your content is and even more! Most of the readers only read headlines, if they get interested in your headlines, then they will read your full post, otherwise, they will leave your page.
Now, let's discuss how you can create catchy and compelling headlines:
Basically, your article needs to be organized, and by using numbers you can do it. Readers find points are easy to read, so try to make a list because lists are very popular. Hence, when you create a list of numbers and then try to prefer digital numbers instead of writing them because it will be easy to read. One important thing, if you can sum up your content within 9 numbers, then try to do it because most of the time readers won't read full points when they see more than 9 numbers.
Use keywords to improve SEO
Keywords are important to optimize your search engine performance. Keywords should be included in the headlines as well as in your content. To improve your search, your keywords should be included at the beginning of your headline.
Another important thing you should consider is the use of appealing adjectives because they can help to bring you more engagement. Use compelling adjectives that can catch your audience attention in a good way and increase your click-through rate. Some appealing adjectives are:
Smart
Critical
Powerful
Awesome
Effortless
# Conclusion
If you have a small website, then it is necessary to get local customers/users that are searching for several terms on Google, this is where on-page SEO comes to play its role. Ultimately, your first step is to work with on-page SEO, and after that, go for the off-page site.