15 Reasons Why WordPress Is the Best CMS for SEO
WordPress introduced way back in 2003, and it has never stopped growing. In fact, it is doing great business. And, it also has proved that WordPress is the best CMS for SEO for any website.
While choosing a content management system for your website, you should know it can have a greater impact on your website – especially in your marketing potential. In most cases, there are some limitations in content management systems. Well! The truth is not all CMS are created equal. So, as a business owner, you would like to choose the best CMS for SEO for your website. As you know, your website is an important part of digital marketing strategy, and choosing WordPress as your CMS will help you to build an SEO friendly website.
Before we dive into the main topic, first, we should understand what exactly SEO is and why it is important for any website. Let's dive right in:
# What is SEO?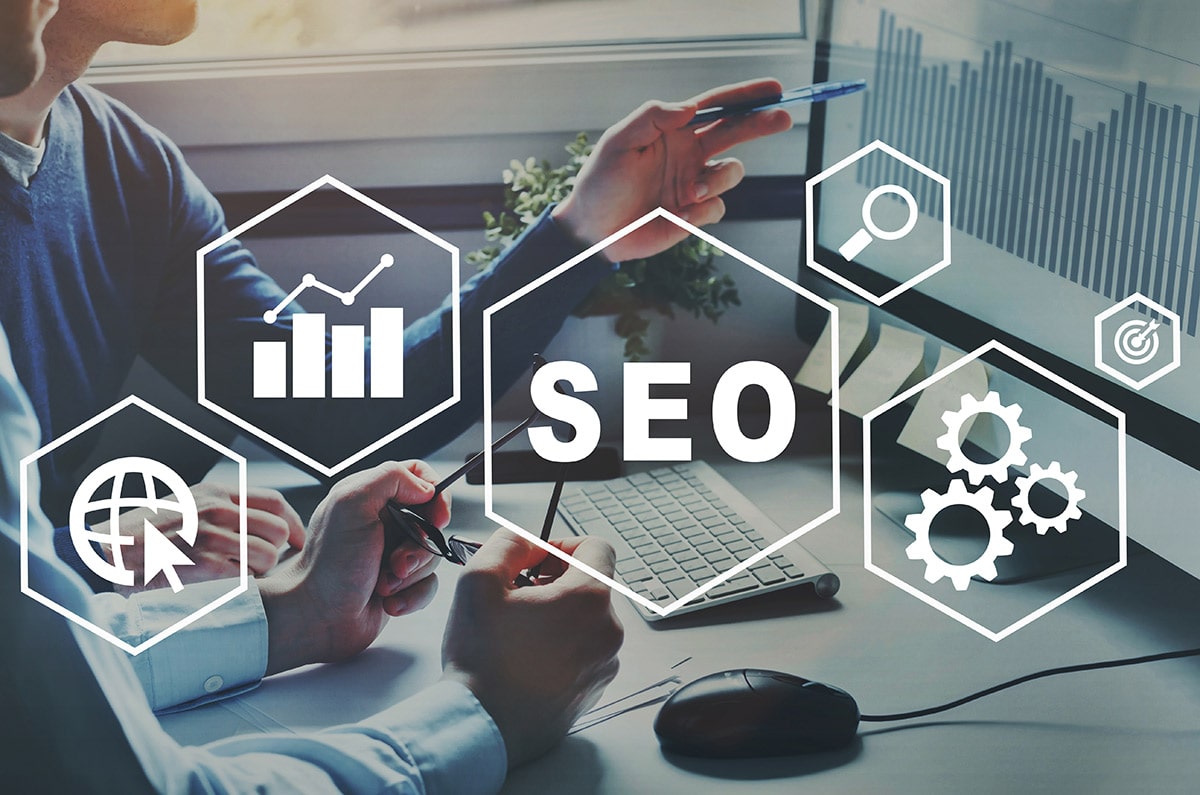 SEO stands for Search Engine Optimization that is a strategy used to boost website traffic to achieve higher search engine ranking. The only purpose of SEO is to gain a higher position in search engines so that your website can get higher user attention.
When we start designing our website, we consider how our website will look and how we can enhance its interactivity and usability that is impressive for our website users. We often miss the important factor that needs to be considered, and that is how search engine crawlers will understand or read our website. So, you must know SEO is basically how search engine interprets your site.
Ensure that your website flow, sitemap, Meta tags, and description are clear. To make SEO a bit clearer and to know what SEO covers, let's get into it:
It is important to have traffic on the website, but traffic should be relevant. You need those visitors who are actually interested in your services or products.
It is essential for your website to get more traffic from search engines. Having more traffic on the website means higher search engine authority and more conversions.
All of us aware of ads are a significant part of the Search Engine Result Pages (SERPs). Organic traffic means getting genuine users.
# Why SEO is important for a website?
Even though search engines have developed but still they can't see and understand a web page the same way as we can do. This is where SEO comes into existence, SEO is significant because it helps search engines to understand what this page is all about and how it can help users.
Well! We don't remember the website's names. Whenever we want to find something, we mostly search on Google, Yahoo, or Bing. We give complete responsibility to search engines to provide us the best source. Search engine optimization is the method that can help your website to achieve higher search ranking so that when any person searches a query, your website comes on the top.
The following points can help you to find the importance of SEO:
As you know, how important SEO is for your website. And, all users rely on search engines, so if you finally achieve a higher ranking in search engines, it means you have won the game of getting a higher position on search engines.
SEO helps to improve user experience and usability of your business website.
SEO is the best for social marketing of your website. People share articles, websites, news or products on their social media accounts as well. This is beneficial for your website as you can easily reach your customers.
You can do better and may be one step ahead in your competition. And you know that if two websites are selling or advertising similar products or services, then it is more predictable that search engine optimized website will be more likely to have more visitors, sales and trust.
When a user searches something and your website comes on the top of search engine result pages (SERPs), then he/she starts rely on your website, and this will add to your brand's visibility.
SEO is helpful to increase the credibility of your business and website. Once your website comes on the first page that means search engines have given you vote, and your website is followed by the visitors as well.
All the above points are enough to understand the power of SEO for your website, and now you may know that how SEO can help your website to raise your search engine rankings.
# What is WordPress SEO & Why WordPress is the Best CMS for SEO?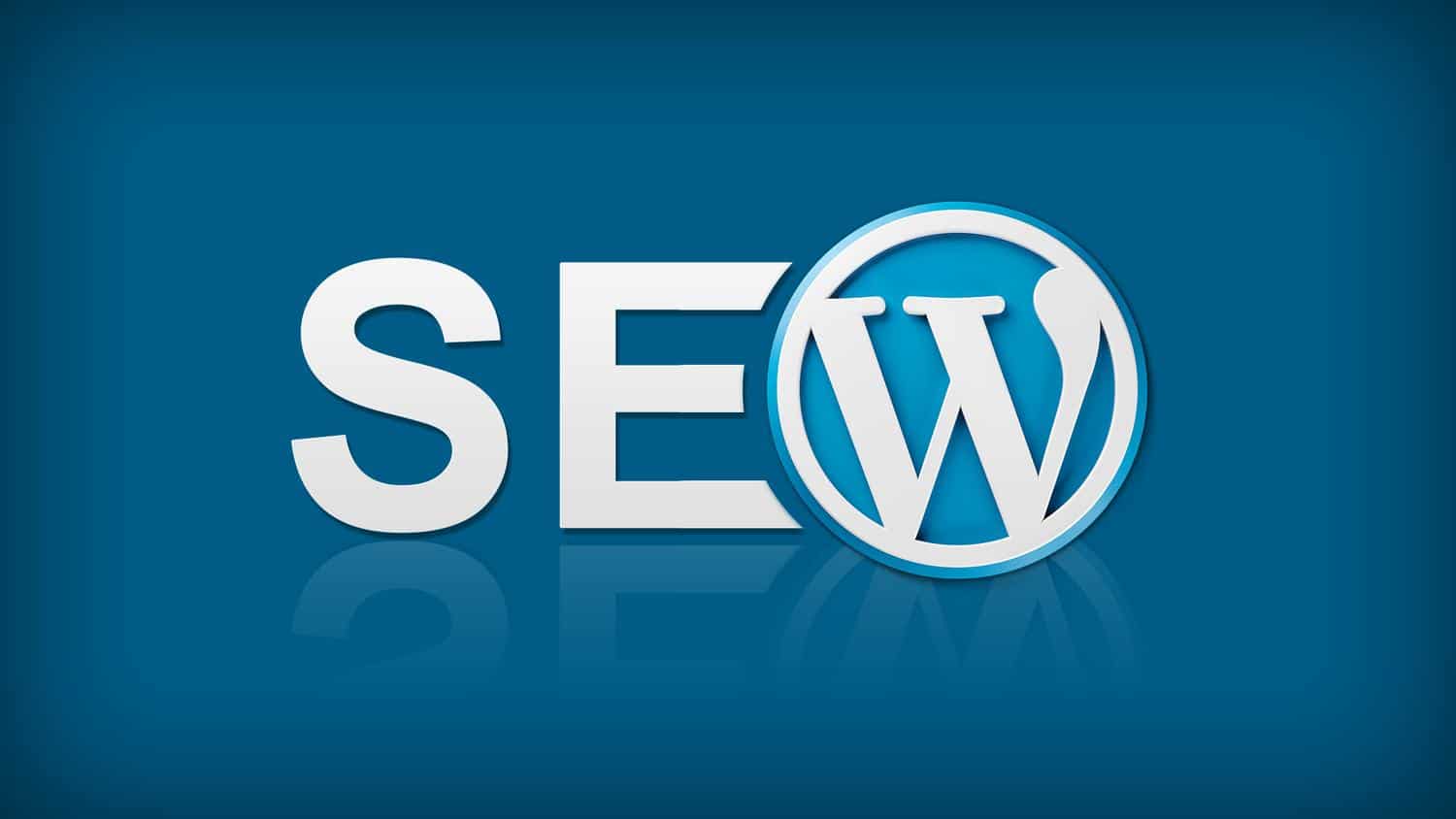 WordPress SEO can be categorized as:
All actions you take make it easier for search engine spiders to find your website, index it, and display your web pages in the search engine result pages (SERPs).
Content & User Experience (UX)
All the actions you perform to provide your users with high-quality and easily accessible information.
The On-site SEO actions you perform to enhance the important factors on your website and give it a better opportunity to show in the search results.
The actions you perform outside of your website that will determine how frequently it appears in the search results.
Let's move further to discuss the 15 reasons that will prove why WordPress is the best CMS for SEO. Various companies opt for SEO services to uplift their website ranking in the search engine result pages, and that's why digital marketers use WordPress. WordPress content management system supports search engine optimization.
WordPress is Easy to Manage
Best User Experience
Powerful Security Features
Content Management
SEO Advantages
Social Media Features
Design Flexibility
Migrating a Website to WordPress is Easy
Huge Plugin Library
WordPress is Mobile-Friendly
Image Optimization
Experienced Community
Speed Optimization
WordPress is open source platform
Customizable Slug
 1. WordPress is Easy to Manage
WordPress is popular because of its beautiful interface and easy to navigate menu bars on the left-hand side. You will find its navigation so easy that any user who wants to use this CMS will get all the ease while using it.
Whenever you install the plugin, it will appear on the left sidebar, and it will become very much convenient to use. If you are getting all features you want from the WordPress platform, then there would be no reason to avoid this platform.
Developing a website using WordPress is the simplest method rather than choosing other builders. One interesting thing about this platform is that you don't need to have coding background for developing a WordPress website. With this platform, you can easily change the content and layout of the website. WordPress also offers a simple dashboard, and from there you can manage everything, and it can be used by anyone with ease.
One of the biggest advantages of WordPress is that you can build both simple and complex website by using WordPress.
2. Best User Experience
WordPress offers a variety of themes and plugins that work together to make the website attractive, impressive, user-friendly, and professional. The website users/visitors enjoy the experience that they get from the WordPress site. If you want to rank high in the search engines or want to increase your website's SEO, then there is good news for all of you that Google is promoting those websites that provide a better user experience. So, here WordPress is the best option for your business website.
There will be hardly any content management system that offers so easy dashboard like WordPress offers. Furthermore, creating URL slugs, uploading images and videos, and creating categories are so easy and quick with WordPress. Changing header and footer menus can be done within a few minutes.
3. Powerful Security Features
WordPress is an ideal platform because it is safe and secure. As you know, WordPress is an open-source, and it is used by millions of users and this is enough reason for hackers to breach it. But, WordPress offers security protocols are one of the toughest in the industry.
WordPress knows it very well that while developing a website, it requires a lot of hard work, time, and money, and WordPress offers great security measures to ensure that your website is secure and safe from harmful assets. WordPress constantly updates its security features to protect your website from external threats.
There are various hackers or malicious minded people who are waiting to get a loophole of a website through which they can get access and harm a website. This is the reason why WordPress is having a dedicated security team that work constantly to enhance security features, thus delivering you new versions of software updates so that it can fix any vulnerability on your website.
Number of free security plugins
Now, all you are aware of WordPress is a secure platform. But, still it can be breached by cyber-criminals just because of weak passwords, failure to update new versions of software, etc. Thus, WordPress provides you with several free security plugins to protect your website.
Powerful password protection
Another reason why WordPress is the best CMS because it comes with an in-built password protection feature. This will check whether your password is secure or not, and helps to reduce the risk of hacking, malicious attacks and other cyber-crimes.
Integration of SSL Certificate is easy
SSL stands for Secure Socket Layer, and it is a standard security technology that helps to protect personal data such as online banking transactional information, user's personal information and it can be protected by SSL certificate and security is another ranking factor that is considered by Google.
4. Content Management
As you know, SEO of content depends on the writing section and the sharing of content on social media platforms. The writing section contributes 20% to SEO, and the sharing of content contributes 80% to the website's SEO. WordPress enables you to incorporate several multimedia on your web page, blogs, and other post types. In this way, it helps you to create awesome content that can resonate with website users and helps to get more leads for your business.
Now, check out how WordPress can help you to manage your content:
WordPress is a robust content publishing platform through which you can publish your content easily. It also provides you with a visual editor that allows you to add/edit content, add images, links and much more, and all this can be done from a single centralized unit.

Distraction free writing mode
WordPress comes with an in-built distraction-free writing mode that can help authors and bloggers who need a distraction-free platform so that they can focus on their content.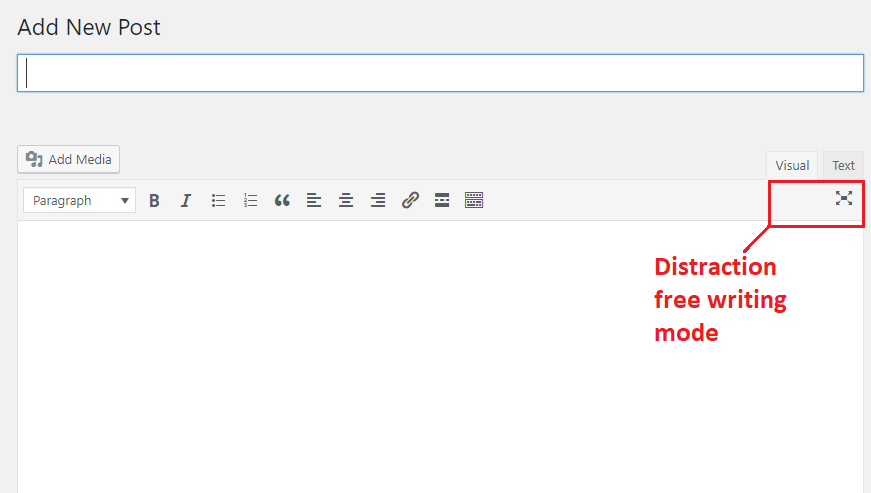 One of the important features that WordPress editor offers is its auto-save feature to its customers, and it helps bloggers or authors to create content without any need to worry about losing their draft in case of power failures or any fault.
Enables you to save your content as draft
WordPress also offers you to save your content as a draft. Suppose you are writing a blog, but you feel that it needs some changes or you don't want to publish it immediately, so you can save your content as a draft.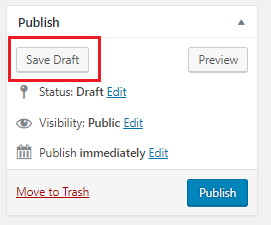 Publish content with a single click
If you have saved your content as a draft and now you want to publish it, or after writing you want to immediately publish it then with a single click you can publish your content.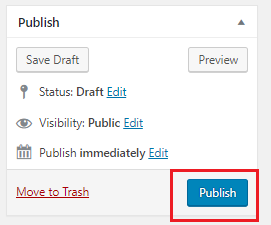 After writing your content you can preview it so that if it needs changes, then you can perform. You can preview your whole article with one click.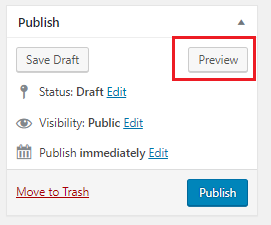 WordPress makes it easy for you to organize your content with the help of tags, author, categories, etc. these make it easier for you to manage your entire content database.
The amazing feature offered by WordPress is that it can save all your revised pages and drafts. So in case, you deleted something unintentionally, or you want to view your previous revised articles, then you can easily do that with a single click of a button.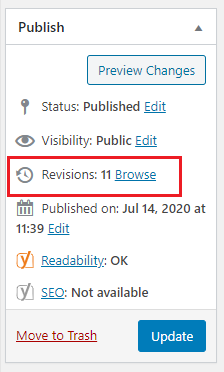 No need to be expert in coding
To create a WordPress site you don't need to be an expert in coding, or you don't need to be a web developer. Especially when there are online resources to help you to create a WordPress site, and provide you step-by-step instructions to build a site.
If you are enthusiastic and passionate about your work and you know how to use a computer, then you can easily determine how to build an SEO-friendly WordPress site.
Integration of multimedia is easy
As a flexible platform, WordPress enables you to easily incorporate all forms of multimedia on your web, whether it is audio, images, video or infographic. This can also be used for document or file management and allows you to add YouTube videos and tweets in your post.
Managing alt text is simple
Search engines can't see images on your webpage to make sense of them that's why they rely on image alt attribute, also known as alt text in WordPress, to consistently describe the content of the image.
You can easily add alt text to the image on your web page, or add it to all your images at once by using media library interface.
Comments can be a strong method to engage more users on your website. Engaged users means more conversion, more links back to your website, more traffic and improved SEO.
Hence, you need to ensure that your comments are relevant and real, not spam because spammers could submit their comments with bad links that could affect and even destroy your search rankings.
But WordPress comes with a default comment management system that will allow easy interaction between you and your website users. It accepts comments on blog posts, web pages, and more. In addition to this, you will be able to customize your comments that how comments will display on your website.
5. SEO Advantages
In the SEO game, WordPress can give numerous advantages. Especially when it is on-page SEO, WordPress platform enables you to take care of several important elements. Hence, if you want to improve your SEO strategy, then try to use WordPress as your CMS.
Being a beginner in this field, you may face many problems while promoting your website and bringing it on search engine result pages (SERPs). WordPress is a platform that can help you to build SEO-friendly URL, H1, SEO friendly tags or categories, and Meta description. Therefore, a website that is developed on WordPress is always preferred by search engines.
Do you know why Google loves WordPress? There are three things that Google loves about a website, and those are: optimized content, responsiveness, and easy navigation, and all these can be achieved with the use of WordPress. In fact, it is search engine friendly, and that's why Google loves WordPress.
Compatible with all browsers
As you know, compatibility across all browsers is necessary if you don't want to lose website traffic coming from search engines other than Google. And, WordPress understands this thing very well, hence, WordPress is compatible with all browsers that help to bring more traffic.
With the help of WordPress, you can improve your brand awareness. Since WordPress is SEO-friendly and permits easy integration of social media networks such as LinkedIn, Facebook, and Twitter, you can easily work this around to get benefits by making use of all the tools available to help you to increase brand awareness.
Keeps updating your website
Many of you will be aware that Google loves that website which is frequently updated. Hence, with the use of this CMS, you can make necessary changes, addition as well as publish content constantly, thereby, keeping your website up-to-date and also it helps to keep your content fresh, leading to frequent indexing and improved ranking position on search engine result pages (SERPs).
One of the greatest benefits of using WordPress as your CMS is that it can convert automatically URL of your new posts and web pages into search engine friendly URL, hence, helps search engines to understand what your post is about and this thing helps to improve ranking.
Improve brand's reliability
WordPress empowers millions of commercially-driven websites, and when you create a WordPress website, it lets you instantly boost the reputation of your company, increasing the trust of your website users in your company and enhancing your ROI.
Allow you to alter permalinks
Basically, permalinks are the URL of your content that you post on your WordPress site. But, WordPress comes with a default permalink structure that allows you to create customize URL structure for your permalink.
Thus, it allows you to create user-friendly URLs where you can add keywords that you want to rank for. Permalinks help you to increase your website ranking in the search engine result pages (SERPs). You can easily and effectively edit permalink of your website, and this is the reason why digital marketers recommend this content management system.
H1 tags are a significant SEO factor that allows search engines to assess how relevant your post is. WordPress gives you the option of adding H1 tag to your content with a click of a button, helping you make your content more accessible that helps to boost your site's search results ranking.
Improves your website's speed
The search engine also takes into account the speed of the website when ranking the website. However, unlike WordPress, conventional websites are too complicated and time-consuming to update that could eventually affect the speed of your site.
Therefore, by using WordPress as a CMS, you will not only able to improve the speed of your site, but you will also be able to minimize the bounce rate that can greatly support your SEO, PAID and other social media campaigns.
WordPress is popular for its 5-minute installation and helps you to create a website in less than a day. All you need is the content and the appropriate images, you are sorted. Besides, WordPress optimization and flexibility are why it is the most popular CMS because unlike other CMS it is extremely versatile and adaptable and can be tailored to your heart's desire.
Allows you to create tags
Displayed under every post, tags help you bind related posts together. When a user clicks on a specific tag, all post that belong to that tag will be shown that will help to increase user engagement as well as traffic.
With the help of sitemaps, website visitors and search engine crawlers can easily navigate. With the help of Google XML Sitemaps plugin, you can easily create a sitemap that helps to speed up your site's indexing and enhancing better user experiencing.
6. Social Media Features
We love to rank high in search engines, right? But organic traffic is not everything, and visitors not only visit Google search engines, but they also visit their social media profiles. There are various alternatives to search engines including social media networks with millions of users.
For this reason, it is essential for your brand and business to integrate social sharing on your website from the beginning. Now, let's see how social media support can help in SEO:
Integration of social media in WordPress
Unlike conventional website design, WordPress will have a great impact on the social media strategy of your site. With the help of widgets and plugins, WordPress allows you to integrate social media accounts easily. In addition to this, it also helps you to manage your social media activities including publishing content, adding images, commenting, all from a single solitary unit.
Hence, it allows you to effortlessly advertise your services or products to build your brand.
Allows you to share your post on several social networks
One of the greatest features of WordPress is that it enables you to share your post on plenty of social networks with a single click. All you need to install a suitable plugin such as Yoast SEO that can help you to insert your content and publish it simultaneously on different social platforms.

Engagement with your audience
If you want to improve your brand's reputation and credibility, then it is necessary to engage with your audience because it is the utmost important element for your brand. With the help of social media tools from WordPress site, you can easily engage with your audience, anytime and anywhere and it can help to increase your brand awareness as well as website traffic.
WordPress enables you to schedule your social media posts. You can install all-in-one WordPress social media plugins to bulk schedule your social media posts for a week or month because it can save your time and enhance work productivity.
Analytics tracking and short URLs
Another amazing feature of WordPress that this CMS can help you in tracking social shares, tweets, likes, and follows, therefore, helping you to monitor your social media marketing campaign's progress. And, it also permits you to integrate Google Analytics, and it also supports URL shortener such as WP Bitly.
7. Design Flexibility
As you know, WordPress offers a variety of free and paid themes that can help you to create any website or blog as you want. Except for its user-friendly admin panel, you can even personalize your whole website with a single click of a button. In addition to this, it offers you unlimited features and functionalities, and it is highly adaptable that makes it the best CMS.
User-friendly admin panel
As compared to other CMS, WordPress offers an extremely user-friendly and intuitive backend or admin panel. That means even if you are a beginner running a website, with WordPress you don't have to struggle with a lot of tasks like content management, publishing posts, uploading images, as WordPress makes every aspect of running website simple, thanks to its clutter-free and user-friendly dashboard.

Maintains the design consistency
When you start designing, you could either select a default theme or even can select a paid theme as well. Once you have set up a theme, it will be the responsibility of the WordPress to maintain the consistency of the design throughout your website, no matter what number of web pages or blogs you might add. This will ensure that your site look more beautiful and appeal to the users.

Control several sites with a single admin panel
With the help of its multi-site technology, you will be able to control all your WordPress sites with a single admin panel.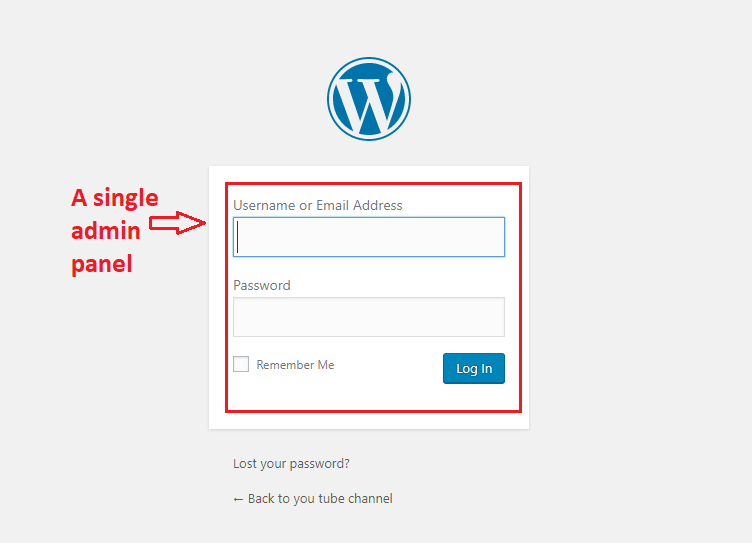 This thing makes it easier for you to upgrade security tools and plugins from a single centralized unit.
Design flexibility is another feature that is provided by WordPress that means if you want to use different design layouts throughout your site, then you can easily get it via WordPress because it allows multi-designed integration.
WordPress offers a variety of components that can play a vital role to enhance the search engine optimization (SEO) of your site. Theme is one of them. Thanks to WordPress that comes with a variety of themes that can improve your website more.
Only including keywords and metadata for SEO is not enough, but considering a good web page design is also an important factor for SEO. When you start using a WordPress site, you don't need to worry about optimizing your website design for SEO yourself. All you need to do is choose an SEO-friendly theme, and search engine spiders will automatically attract towards your website.
If you choose the right theme for your website, it will ensure your website uses proper HTML markup, hence it will cover your technical SEO. Choosing right and well-designed theme will help to make your website look professional and appealing that can encourage your website visitors to stick around on your website.
Many WordPress themes provide best user experience
It is difficult to find a theme that can complement your content, speak to your audience, and helps people to navigate and engage with your site. WordPress's custom theme enables you to tailor your website's appearance to your business, your content and your brand easily because you won't purpose to make your e-commerce website to look like a news website.
On the other hand, other CMSs offer beautiful themes and template, no other content management system has a variety of impressive and high-quality selections that WordPress offers.
8. Migrating a Website to WordPress is Easy
You might think that it is difficult to migrate from your traditional CMS to WordPress, but it is not so difficult. WordPress enables you to export your database, media files and content, supports URL redirects, and enables you to integrate your existing website design to custom WordPress theme and much more.
After migrating your website to WordPress, you can easily install required plugins to improve your site's performance.
9. Huge Plugin Library
Choosing WordPress for optimizing your site for higher ranking would be the best option for you. You just need to install the right plugins for your website. WordPress offers a variety of plugins, you can install it to improve the SEO capabilities of your site.
Plugins help your website to load faster and to customize your website with the help of plugins is easy and affordable.
Plugins help to create structured data/schema markup
Structured data, also known as Schema Markup, it is a code that is applied to a web page in a standard format so that search engines can get clear information about the specific page. Schema provides context to search engines so they can make better sense of the content that is on your website.
You may find various schema markup tools that can help your pages to be displayed more consistently in the search results. Structured data can help you whether you want your website to be shown in a search result or you want your website to rank better.
Allow you to manage your Meta tags
The most important meta tags that are used in SEO are your title tag and meta description tag. These tags help Google how to show your web pages in the organic search results.

There are various popular plugins exist, but plugins All in One SEO Pack and Yoast SEO enable you to customize these tags so that your web pages can rank well in search results and get better click-through rates.
Filters duplicate content
As you know, Google penalizes duplicate content, so WordPress takes this thing into consideration. Therefore, it ensures to filter all your content, title tag, meta description, etc. thus it helps to protect your website's ranking and overall performance.
To avoid duplicity, you can install plugins such as Delete Duplicate Posts or Fix Duplicates that helps you to find and delete duplicate content, web pages and more.
You can easily connect with social channels
WordPress plugins allow you to have better control over the formatting of shared content on social networks. But as we know, social media platforms doesn't directly influence page ranking, but it will have an indirect effect, and this is because social media enhances brand awareness and the frequency with which your audience will interact with your website.
If we talk about Yoast SEO, it allows you to set meta tags for both Twitter and Facebook. In addition to this, you can also customize what shows when you or other share posts on social media channels. This customization helps in boosting click-through rates and enhances your brand awareness.
Most used and popular WordPress plugins are Yoast SEO, Google XML Site Maps, and Google Analytics by Monster Insights.
Yoast SEO is one of the most popular plugins and it makes website optimization easier for even those who are least tech-savvy. Now, the question arises, how can Yoast SEO help you? Well! The answer is:
Yoast SEO helps to optimize your written content while targeting your keyword.
It helps you to write content that is readable for search engine spiders and humans.
It provides you with SEO title and Meta description templating.
With the help of this plugin, you can easily create complex XML site maps. These maps make it easy for search engine crawlers to understand the structure of your website. In addition to this, each time when you post content, this plugin will notify search engines of your content.
Google Analytics by Monster Insights
WordPress's Google Analytics plugin is easy to use and robust. There are various reasons why it stands out:
You don't need to exit your WordPress dashboard to check your Google Analytics reports.
You can view that page that is performing well on your site with detailed stats.
You can also view how many clicks your banner ads, outbound links, and affiliate links get.
And an interesting thing about SEO plugins for WordPress is that you don't need to touch a single line of code.
10. WordPress is Mobile-Friendly
Studies prove that most of the people access the internet via their mobile phones. So, it is an important element to consider whether your website is mobile-friendly or not. With the help of WordPress, you can easily optimize your site in a mobile-friendly way. As compared to other builders, WordPress makes your website more responsive. Responsive website makes it easy for your readers to read your published content that helps in content management of your website.
If your website is not mobile optimized, even it will not be shown in the Google results for mobile search requests. WordPress comes with a variety of themes that are designed to be responsive and help to boost your SEO strategy, so you don't need to worry about it.
11. Image Optimization
Another factor that is important for website SEO is image optimization. When you add images into your content, it makes it easy for your readers to easily read the blog post that you have published. Apart from content optimization, image optimization is also important in SEO ranking.
Using WordPress, you can insert "alternative text" to the image, and it can be noticed by the search engine spiders. WordPress makes you able to resize your image that increases your site's load speed.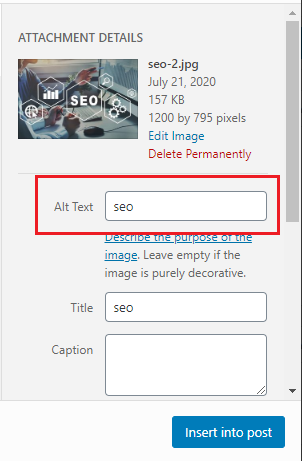 If you want your blog or other content to go viral, then images can play a vital role in advertising your content. With image optimization, you can lift up your website SEO or ranking in search engines and encourage people to visit your website.
Images not only attract users, but it also helps to boost your website SEO, especially when you are using WordPress. Here I've mentioned different methods WordPress can optimize your images to achieve better SEO ranking:
WordPress makes you enable to create "alternative text" for each image that you have uploaded. This means you can easily plug in your keywords as image description so that search engine crawlers can notice it.
With the help of WordPress, you can use that plugin which can automatically create alt text for your images.
Also, you can resize your images as I've mentioned above, so that they don't slow your website's load speed down.
To compress your images you can also use Imagify and WP-Optimize & Smush plugin. These plugins can help you to compress your images on site that results in faster website loading time.
12. Experienced Community
Another interesting thing about WordPress is that being a WordPress user you will never feel alone. That means if you face any problem while running a WordPress site, then there are several people in support forum willing to help you out. Furthermore, the WordPress community is the real reason why WordPress is the best CMS for SEO.
The WordPress community is huge and an excellent place to draw knowledge and resources. WordPress has a community of experienced developers and people who always ready to answer all the queries that come as an error.
Anyone with working knowledge of WordPress can make a contribution to this content management system and therefore, after start using WordPress you can get free on-going support from other community members, and also you will get access to a wide range of free plugins and themes.
As you know, WordPress is used by several people and hence, WordPress needs to be stable, innovative, and up-to-date with new trends so that it can engage a vast audience. Any bugs are easily found by a dedicated WordPress community, offering a reliable and secure platform for companies to run their websites safely.
Apart from this, with regular improvements to its software, WordPress has managed to stay ahead of its rivals in term of superior and creative technologies.
13. Speed Optimization
Back in 2010, speed became a ranking factor on desktop and in 2018, speed became a ranking factor for mobile devices. If your website is having a page load speed under a half-second, then your website is going to achieve a higher ranking on search engine.
Thanks to WordPress because it is optimized with fast loading speed, and as you know website speed is an important factor in Google's ranking algorithm, and WordPress offers you a benefit in the content management system. If you are a WordPress site owner, you may often feel that WordPress is providing you the best loading speed on their websites.
WordPress helps to improve the speed of your website and reduce its load time of your website content. Fast loading speed is always liked by customers as well as search engines. And, it is also observed by search engines and in return, your website's ranking will also increase.
14. WordPress is open source platform
This is another reason why WordPress is the best CMS for SEO because it follows an open-source model. Due to this model, any developer from anywhere can create a plugin or theme and contribute to the community of WordPress. Hence, the capabilities of your WordPress website are limitless. WordPress constantly updates its software to help you to stay on the top of Google's recommended best practices.
Due to its open-source feature, many business owners prefer this platform because it is affordable. Despite this, website optimization for the search engines is easy on this platform, that's why most of the businesses choose this platform for their business.
And, because it is open-source software, anyone can modify its code, and even anyone can build a new application to improve its existing features. This thing makes the WordPress platform the best CMS for SEO without limitations of commercial use.
In addition to this, the WordPress community also makes sure that all software is up-to-date and this software doesn't require any licensing fees.
15. Customizable Slug
WordPress provides you a way to change your slug and give it a convenient name for your target keyword, and it also helps in SEO. And as WordPress users know, creating short URLs are often dominated over long URL names. This also helps you to tailor the permalinks as per the requirements and attributes you want in the URL, such as date, category, etc.
When you create a good slug for your website, it can positively impact on your SEO. It allows you to perform the following tasks:
Include target keyword in the URL
The biggest SEO advantage of the slug is that you can change the terms and make sure they have the terms or words that you really want to rank for. It is one of the criteria that Google uses to assess what website is about.
Create user friendly URLs
The URL is also one of the things users see in the search results. Imagine a result page: you are going to see different URLs about a particular topic. And you need to ensure that your slug is in line with that people expect to see.
Apart from the above mentioned points, there are various advantages of using WordPress CMS for your website. Let's discuss it:
Accessing WordPress is an easy task. You can use WordPress on all platforms. It uses a free license server that is you can install it on a Windows server or Linux server. You can use HTML and CSS with PHP to create web pages that will make your site accessible on all mobile devices.
You don't need to spend any money to know about this robust content management system. WordPress is built with simple technology, and learning the basics of WordPress including uploading content, and photos will take a few minutes. WordPress doesn't need a coding background to manage its content. This makes it easier for users to know about WordPress.
Here, you are free to create a personalized website that suits your style. It lets you change the look of your website and helps you to explore a variety of innovative possibilities with a single click. WordPress makes it easier to perform creative tasks as compared to other CMS. As WordPress is simple to change, you can easily incorporate and check your creative ideas.
WordPress gives you every freedom to customize each and every segment of your website. All portions of the code are now open for editing. You can control the functionality, appearance, size, and layout of the website. You can customize the entire website by using some basic features. With this customization feature, you can set up a proper content management system.
Theme engine of a WordPress is entirely separated from the core CMS, allowing you to quickly make updates. You can also change the complete design of the website while keeping content intact.
Keeping new marketing tactics in mind, having a blog is a must. A WordPress website, besides having a built-in blog section that is popular for, helps you to create or manage your WordPress business blogs as soon as the installation process is completed. It comes with an integrated comment section and a user dashboard from which users and writers can be added or removed.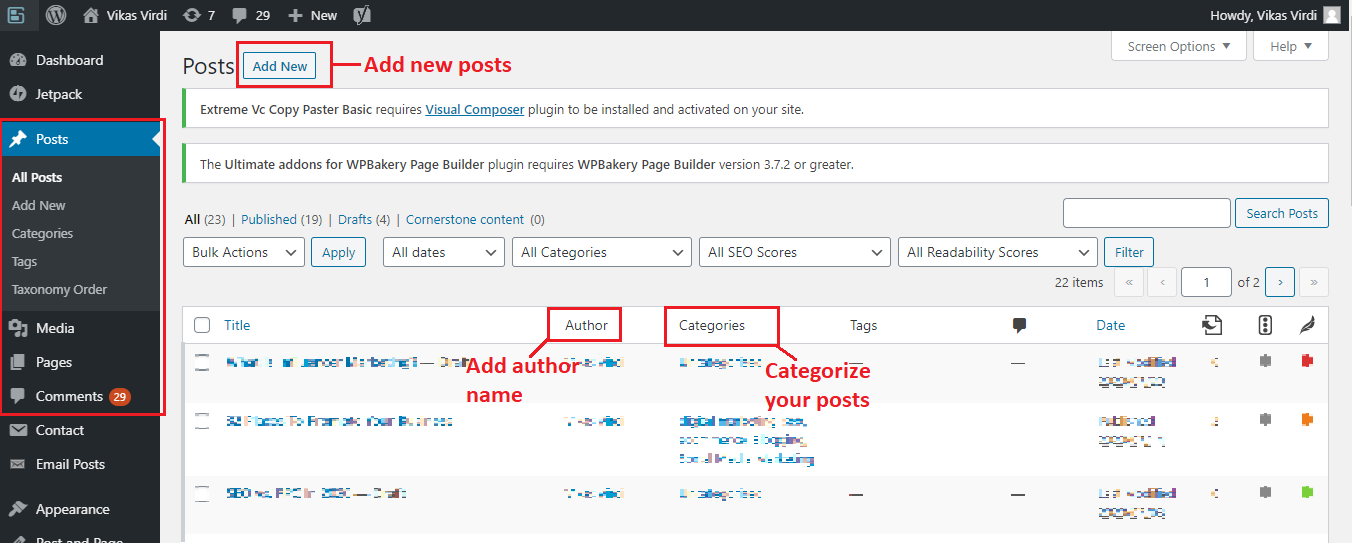 With WordPress, tracking your website traffic and visitors is also easy. In addition to this, you don't need to have coding skills to integrate Google Analytics or Google Search Console accounts with your site. WordPress plugins are available to monitor the website performance.
Most social media platforms provide API keys, enabling users to access third-party services. With WordPress, you can incorporate thousands of API keys, making it simple for you to add external resources to your site.
Cost effective and flexible
As compared to other CMSs, creating a WordPress site is cost-effective and enables you to choose from a wide range of WordPress themes and plugins that are available at an affordable rate. It is also versatile in the sense that this content management system can control all sorts of sites, and you can practically create everything, whether it is an event management site, a simple blog, a personal site, or full-fledged eCommerce websites. Unlike conventional website design where everything has to be programmed, WordPress offers you a host of pre-written programs that are known as Plugins that can help you boost the functionality of your website at a lower cost.
However, it is extremely important that you don't go overboard with installing plugins and keep them to a minimum to provide your customers a smooth and better user experience.
Aside from built-in tools, there are several free WordPress CMS plugins that can help you to have more website functionality. If you want to create an appealing banner or a mega menu, there are several plugin choices for your company website. Adding Google maps or YouTube videos is just as effortless.
# How you can implement WordPress SEO?
Now, you have an idea of what elements can make your WordPress site SEO-friendly, but you have to understand that using WordPress alone wouldn't get your site highest ranking in search engines. So, here you need to create a website that provides your users with relevant and exact information they are searching for and the best user experience. To achieve that higher-order goal, you need to make an SEO strategy.
Types of SEO strategies:
The following are the three main methods through which you can get your site ranking high in search results:
One of the easiest methods to make your website SEO friendly is by hiring an SEO agency to do your SEO for you. But for this, you need to spend a lot of money on an agency that means your budget should be high. Even though this is the most effective method to achieve your SEO goals.
Do-it-yourself SEO method is the best option for those who have enough time to spend on making SEO strategy for their website because it is a time-consuming process and you have to invest your time in taking courses, reading articles and determining how to extract and use data generated by complex SEO tools.
This is a completely unique method as it combines custom tools, SEO coaching, and a proven process for you so that you can follow it. It is a very effective method as compared to the do-it-yourself method, and it is more affordable as compared to agency approach.
# Conclusion
Now, you would have an idea of why WordPress is the best CMS for SEO. SEO will also help your website to get an online presence on another level. As you know there are plenty of websites that exist and making your website the best and stand out from the crowd is necessary. For this reason, you need to rank your website higher and for this, you need a platform that can help you to do so. And, that platform could be WordPress.
WordPress has done a lot and still, it is giving its best to be search engine friendly. By now, WordPress is a platform that has extensive SEO capabilities. WordPress has nice coordination with Google and other search engines, and it comes with a variety of themes and plugins for advanced SEO optimization.
In short, WordPress is the best CMS for SEO and developing websites that rank well. The WordPress platform is the best bet, if you want to hit Google's front page.