How voice search can be useful for your digital marketing goals?
Before we get into it, first we should know what exactly voice search is and how it is related to digital marketing. Another important concept about voice search is to determine whether your business is ready for voice search or not? To get answers to these questions first you have to go through this article, here we go:
What is Voice Search?
In simple words, voice search is a technology through which we can search for anything by speaking into the device. These devices can be any smartphone, computers and home assistant devices.
As voice searches have grown up over the years, so it is important to understand this concept and the integration of voice searching into a digital marketing strategy. Businesses need to make voice search strategy so that they can integrate it into their digital marketing plans because voice search is changing the way people usually search for and they search brands to interact with.
As voice searching is becoming popular, so every business from small to large needs to adopting this strategy for their brands. The future of voice searching is endless and it will get bigger than now. Also, it will change the way SEO is done, will help to improve the user experience and engage more traffic on your website.
The progression of voice technology
The first speech recognition system was developed in 1952 by Bell Laboratories but it was able to understand numbers only. When smartphones developed then voice search popularity started. In 2008, Google released a voice recognition app which was for iPhone, iPhone users were able to make basic inquiries.
In 2011, Apple released Siri, which impacted the popularity of personal voice assistant. But, now we have various voice assistants through which we can access voice search. Voice searching is everywhere in our watches, cars, phones etc. Since the general release of Amazon's voice assistant Alexa has sold 100+ millions of devices. Now the voice has developed and it will have a great scope in the future.
How important is voice search?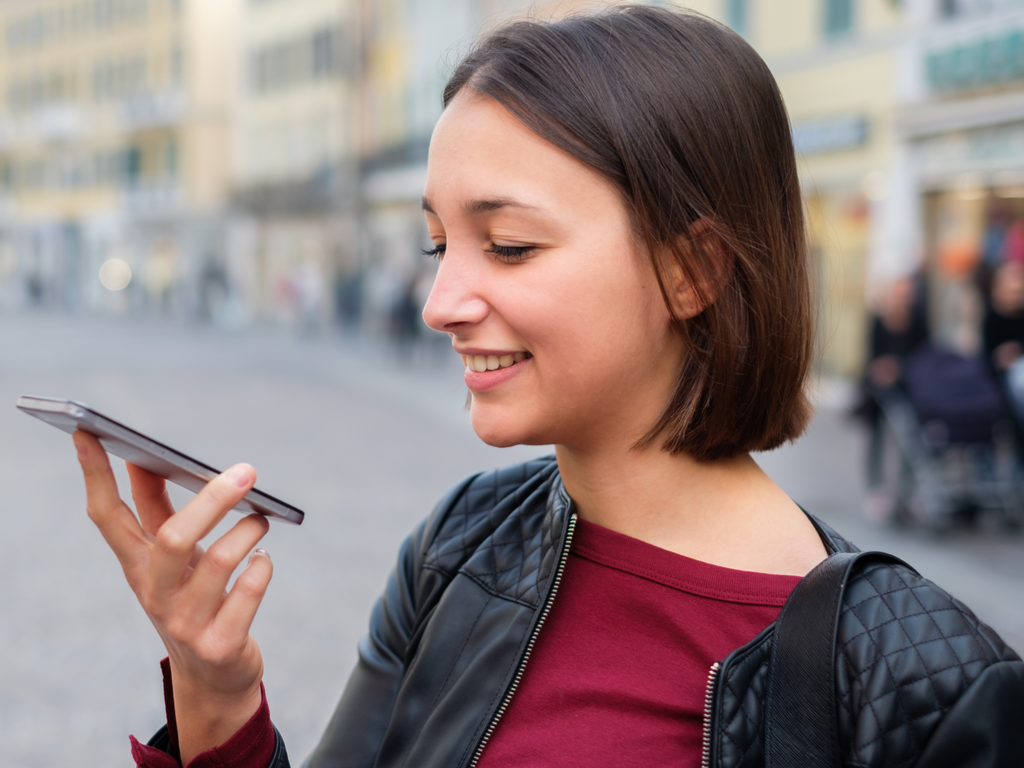 Various people are unaware of this technology, i.e. voice search technology. But those people who know about this technology and features are very lucky because with this technology they can save their time by just using voice search instead of writing a whole sentence. We should be very thankful for the integration of voice recognition software into multiple platforms.
If you have a technology that enables you to just speak what you want to search and it will provide you most relevant answer without interacting with the screen or without typing anything, then what will be your answer? Obviously, every person would like to use this type of technology because it will save time. Suppose you have some kind of health-related issues, e.g. fever. Then how will you tell this issue to the doctor: first, you will tell your problem verbally or second, by typing. Every person would choose the first option over the second option because it is easy as compared to the second option.
Google assistant is most popular voice-based software which is associated with Google home speaker. It supports 17 languages as of now, and they plan to reach at 30 this year. That means the user can use any language out of 17 languages such as English, German, French, Spanish, Dutch etc. It can also support different accent of English in different parts of the world including the US, UK, India and Singapore.
Voice Search will change the way digital marketing is done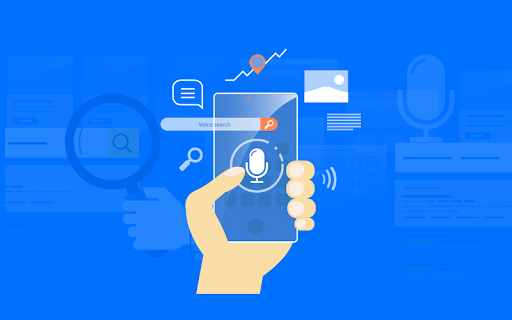 # Making a high value to position zero
In digital marketing, our main goal is to get position zero, right? When you get to position zero or your website at the top position then your website gets more visibility and users as compared to other websites. Because of position zero in voice searching, the analysts will predict the value of position zero and it will increase its worth.
# Featured snippets
Whenever you search through voice assistant then it will search your query from the featured snippet and provide you with an answer. If you don't know what a featured snippet is then I'll explain it, the featured snippet is any search result which appears at the top of the Google's organic results on Search Engine Result Pages (SERPs).
# Improve the value of artificial intelligence
Most of the digital marketing companies plan to apply artificial intelligence (AI) while adopting a voice search. With the help of artificial intelligence, plus machine learning, businesses can analyze and compile a huge amount of data for actionable insight.
# High priority to semantics of searches
As we know writing is different from speaking, while users search for a query by using voice search they use a conversational tone. Their queries more often seem to be a question. Since voice searches are more conversational and users use natural language so, it will give high priority to semantic of search queries.
At this point, it will absolutely affect the digital marketing landscape and digital marketers need to re-evaluate each keyword used in their content and previous marketing strategy.
# Maximize mobile-friendly movement
As we know most of the searches are performed by voice search by using mobile phones and tablets. So, the main objective behind this for businesses is to develop a website and web design which will be mobile-friendly for their customers using voice search.
# Improve local SEO
It will help to build the value and importance of local search engine optimization (SEO), which is important for businesses not only for more traffic but also for more sales.
How voice search will be used in digital marketing?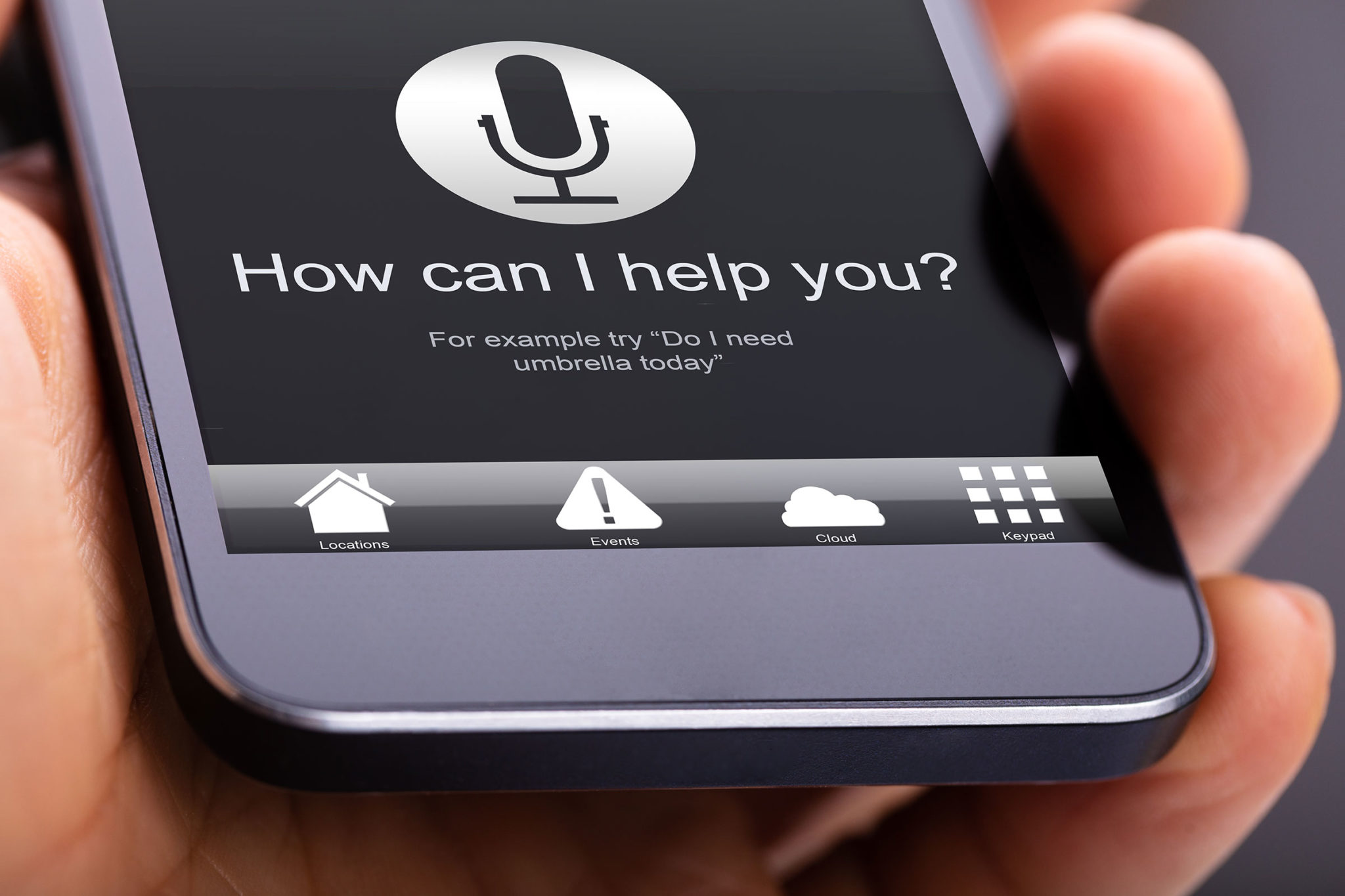 Before the invention of a personal home assistant, we were using our laptops and mobiles to search any query, but now we are using voice assistants to search query. And it has become the most popular and best way to communicate with the internet. Most searched words in assistant are "how, where, who, what, is, best, the, can, I, do, why".
In 2020, it will become bigger than now. As it is becoming popular day by day, traditional searches will no longer exist. Nowadays, people choose voice searching over typing any query on the phone screen.
But today, every digital marketer is trying to get their website at position zero by using keywords, UI and UX implementation etc. But in future voice search will change the way digital marketing is done.
Digital marketers should improve their keyword strategy while considering one thing that they are going to use these keywords for a voice search query. Because there is a difference between voice search and traditional method.
For example, you write "what is the difference between Windows OS and Linux OS" whereas, on voice search, it'll be like "Windows VS Linux OS". So, here is a difference.
Another improvement should be in UI and UX on voice search so that any voice assistant can identify search query accurately.
When users use voice search then they will get an answer from the first snippet. So make sure that you are organizing your keywords in such a way that your website get highest ranking and users get an answer from your featured snippet.
Now, you'll have an idea of how voice search will affect digital marketing.
How to optimize for voice search?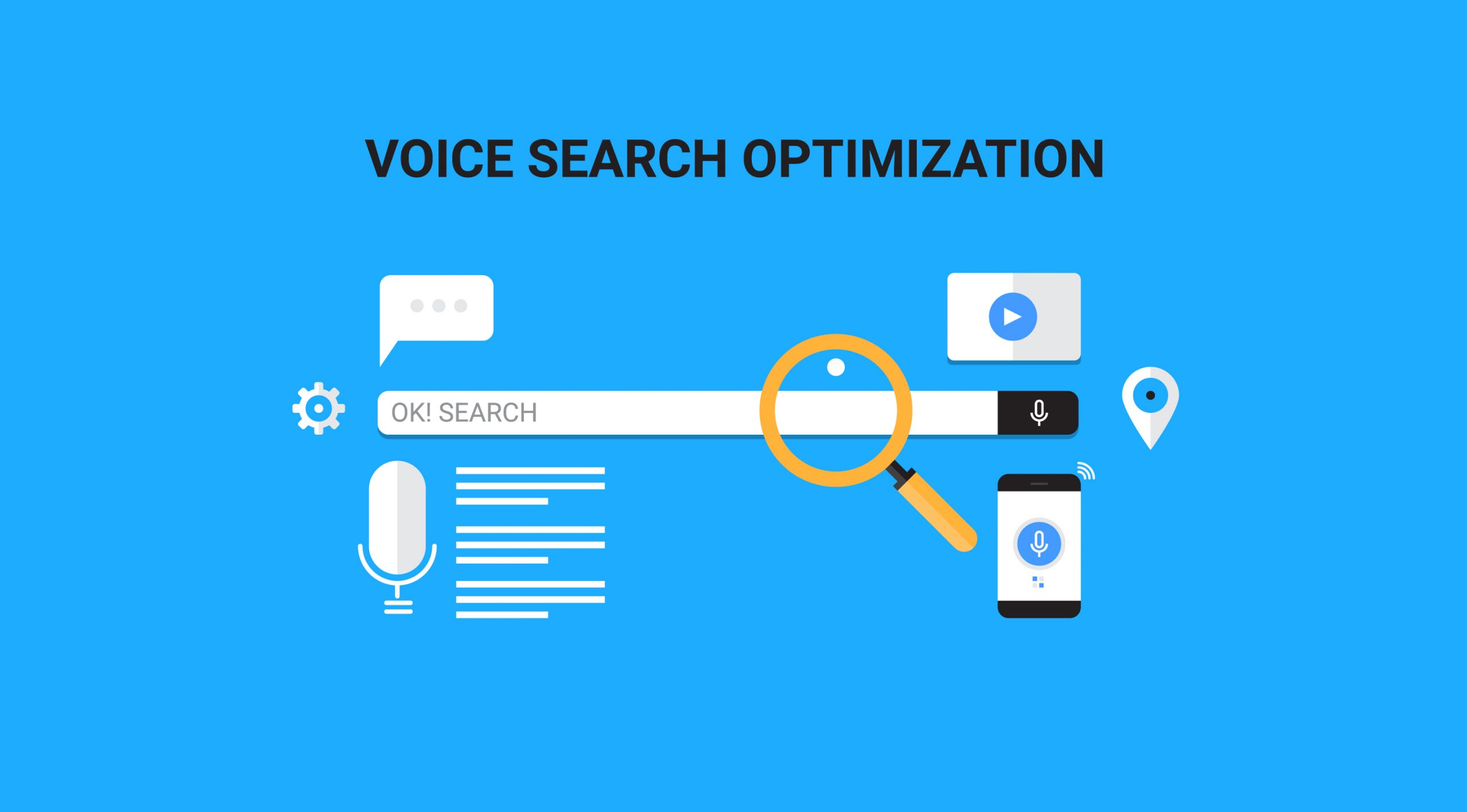 The growth of voice search is still increasing, so the marketer will start voice search optimization. As we know how important voice search optimization is, so it should be adopted by every company from small to large. Nowadays everyone uses voice search while driving, asking questions about specific location etc.
Voice search is not only used for locations but also for sales, information about upcoming events, news, customer support and many more. Most businesses try to make modifications or updations in their content to make it suitable for voice search ready.
Small and large businesses optimize for voice search every day and make a strategy to compete with other companies.
Voice search will also have a great impact on ranking. As we know while using voice search we will get one best and accurate answer from the search engine, so competition is very high for those companies who always make strategies to get a higher ranking. In this way, if your answer is at the top and search engine brings this answer for their intended user then it is a good thing, otherwise, another company or website will get this chance and you will be a loser straight away.
Here, we have mentioned a list of points that will help you to optimize for voice search, here we go:
Optimize for the website that loads quickly
A website that offers high security with SSL Certificate
Create a FAQ page answering to your customer's questions
Keyword research for voice search
The structured site and content development
Structured data optimization
Get mobile-friendly
Use simple words
Use social media channels
# Optimize for a website that loads quickly
This advice is not entirely related to voice search but it is important for every search whether it is text-based or voice search, so I am going to explain it:
Google prioritizes that website which loads quickly as compared to other websites. As we know there are various websites reside but Google will first pick that website which takes less time to load. With this, the search can be text-based or voice search, so it is important to optimize your website speed. There are various tools available to check the speed of a website. You can choose any one of them. If your site speed is not up to the mark and you find some elements that slow down your site then you can use Webpagetest.org.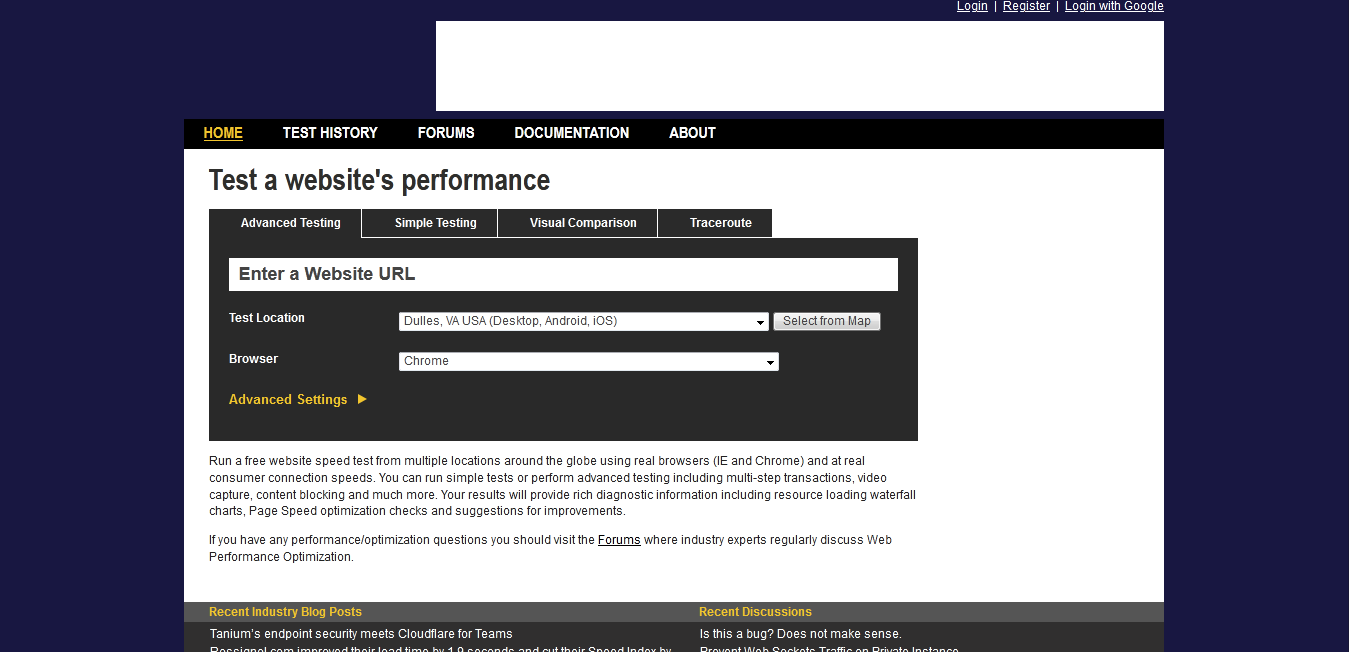 It will show you the graph with elements that are affecting your loading time. Try to fix those errors as soon as possible. And move on to the next section of voice search optimization.
# Website that offers high security with SSL Certificate
If your website has an SSL Certificate then there are higher chances to get noticed by Google, because Google gives high priority to those websites which contain SSL certificate. Having an HTTPS protocol will ensure Google bot and customers that your website is reliable.
# Create FAQ page answering to your customer's questions
To optimize your site for voice search then it should be important to create a page which will provide an answer to each question asked by your customer. User can ask any question verbally so you should be ready for this.
# Keyword research for voice search
Keywords are the biggest factor among all of these points. You should consider the semantic difference between queries, because people may type different and speak differently. For example, they type "what is digital marketing?" and they may speak "digital marketing and their trends" so, here you can see the difference in both cases.
You have to be ready for this challenge. You have to consider every aspect while optimization for voice searching. You need to brainstorm what kind of questions they can ask related to your target keywords. There are various tools for keyword research, you can take help from those tools.
# Structured site and content development
Site structure is another concerning factor in voice search optimization. Try to organize your question into categories. Another aspect is content development. Producing quality content is also helpful to improve voice search SEO. Creating local content is also a good strategy. If you are producing quality and valuable content that can make your users your regular readers. So, try to create local, simple, long as well as short content as per the requirements.
# Structured data optimization
When we use the text-based search then we can choose the second result. But on voice search, Google will bring only one best relevant answer to the asked question. There will not be a second option or result. Here, the point is, try to develop relevant content and to the point answer so that you can get higher chances to get featured and your answer will provide by Google on voice search.
# Get mobile-friendly
Mobile-friendly means, most of the searches come from mobile devices. So, if you are optimizing for voice searching then make sure that you are optimizing it for mobile also. In other words, your site should be mobile-friendly, fast and https secured.
You can check your website whether it is mobile-friendly or not by using Google's Mobile-friendly test tool.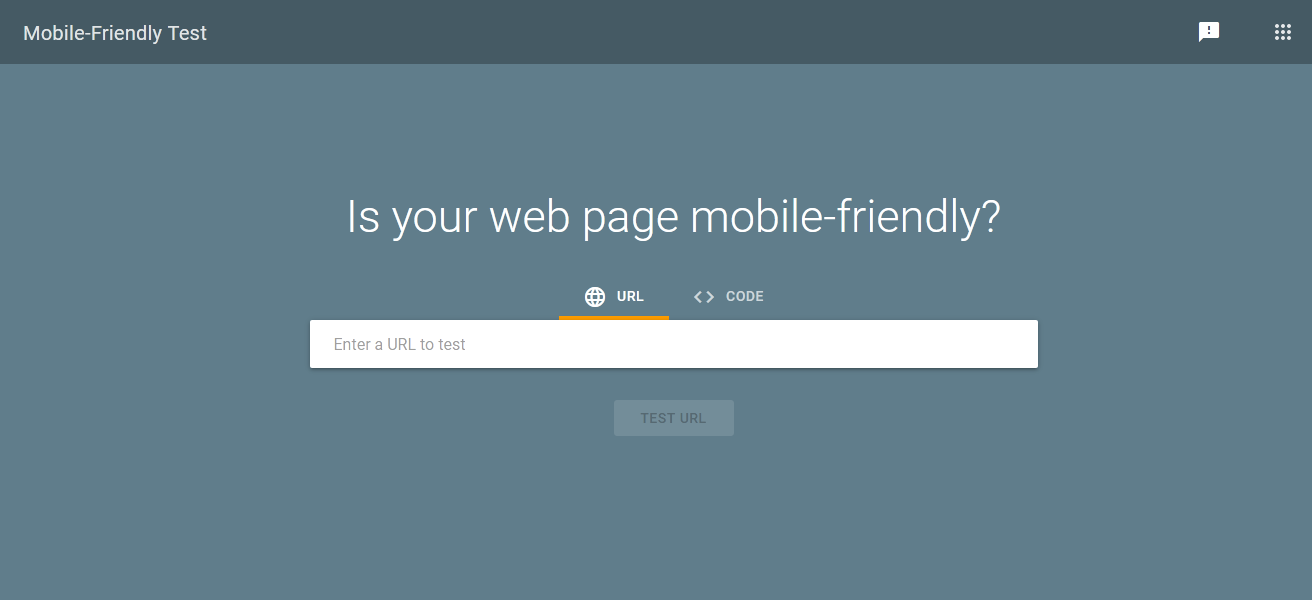 If your website is mobile-friendly then it will say "Page is mobile-friendly".
# Use simple words
The basic idea behind this, if your site is providing simple and relevant answer then there will be no chance that a user avoids your answer. Try to use simple words and short sentence as well as your answer should be to the point or direct answer.
# Use social media channels
Most people use social media channels. At least one social media channel will be there on their mobile devices. So, try to be active on social media. Social media channels like Instagram, Facebook, Twitter, LinkedIn etc. Almost all people engage with their friends, read the news, and get updates on new events etc. on Facebook, they share their valuable moment on Instagram, find jobs on LinkedIn etc. With this, you can start from a small business like a blogging site. If your site is more attractive then it is more likely to be at the top of SERPs and voice search included.
How does voice search affect your business?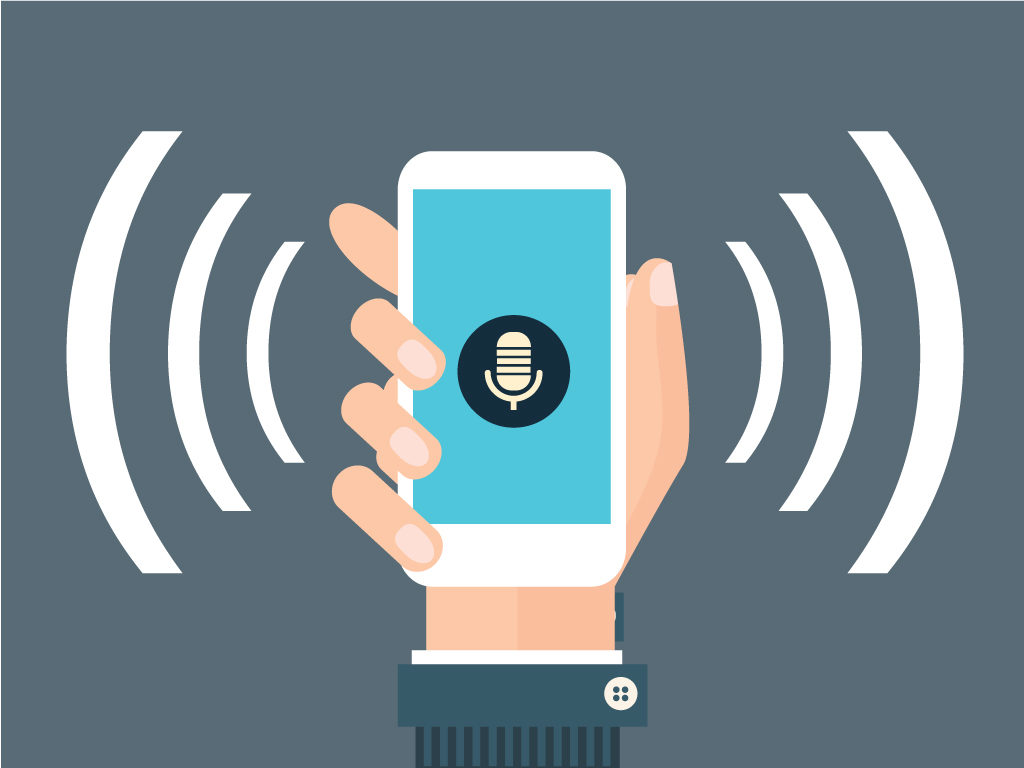 If you have not adopted voice searching yet for your business then it's time to do it. It has been predicted that in upcoming years, most of the searches will be done via voice rather than text.
Voice searching is a very unique concept as a user can ask anything instead of typing. It is user-friendly as users seem like they are talking to another person. Mostly questions are asked by the users rather than typing keywords.
Your content needs to have the fastest loading time so that voice assistant can give the fastest possible response. All possible people will use the voice assistant to search for more information about local business.
Businesses are starting to consider how customers talk. This comprises of two things:
They will consider common words mostly used by their customers during voice search
Considering the way customers phrase their question
Voice search is changing the way SEO is done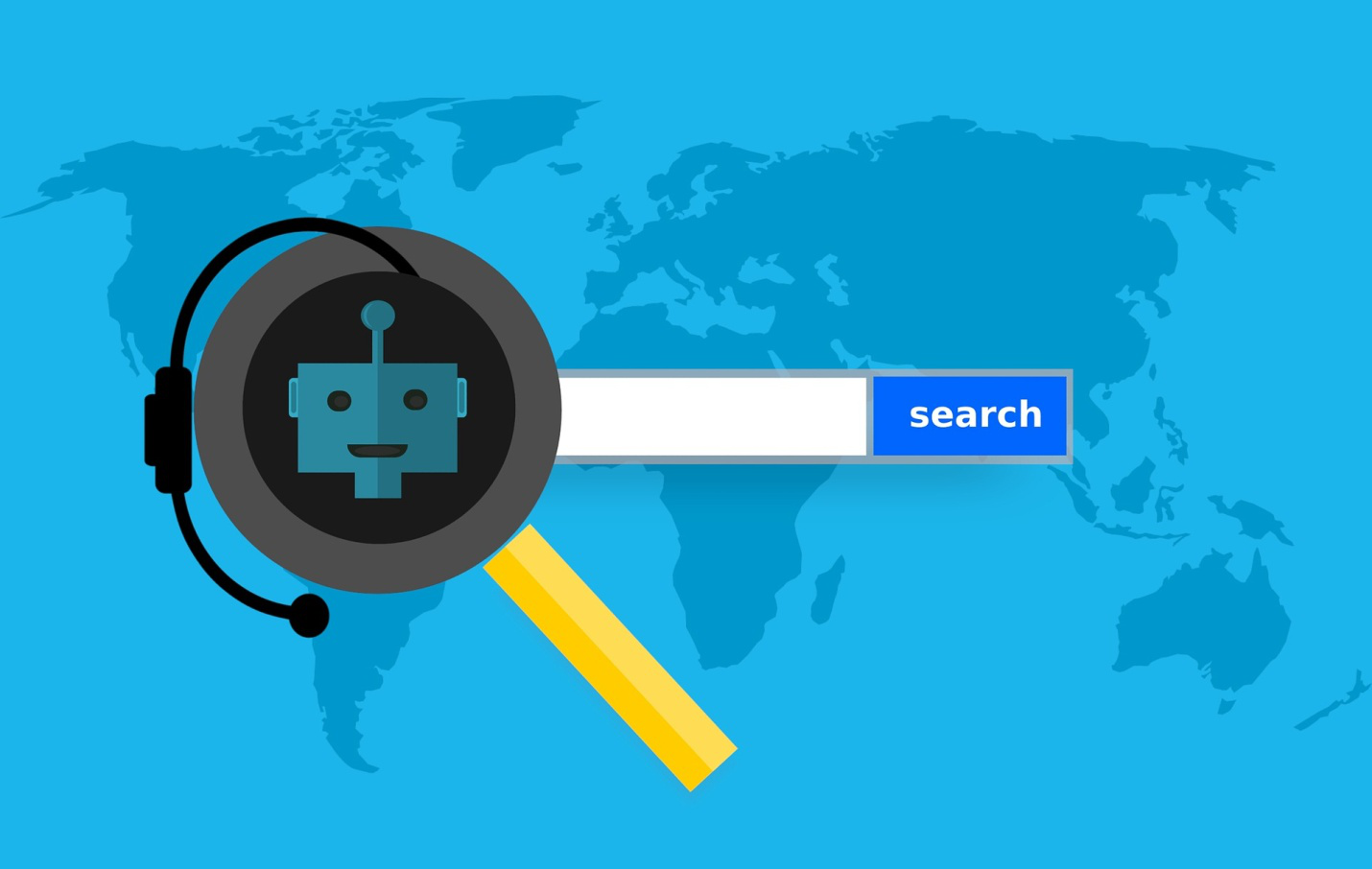 SEO strategy is based on the quantity, quality and distribution of the content. When users are searching for a particular topic or information then Google will bring that specific information that fulfils the user requirement or best suits the user intent. Well, when it looks for a local service provider, then results will depend on:
How relevant the answer is, and the accuracy of the content concerning the user's search
Distance in the sense, how close the listing to the customer who has searched for it
Prominent location – commonly searched and well – known location
Suppose you are searching for something which is text-based like "best hosting companies", you will get a list of top hosting providers/companies with all information related to the company and services.
On the other hand, if you using voice search and say "top colleges near to me" then it will use your current location and show the list of top colleges in your city. For example: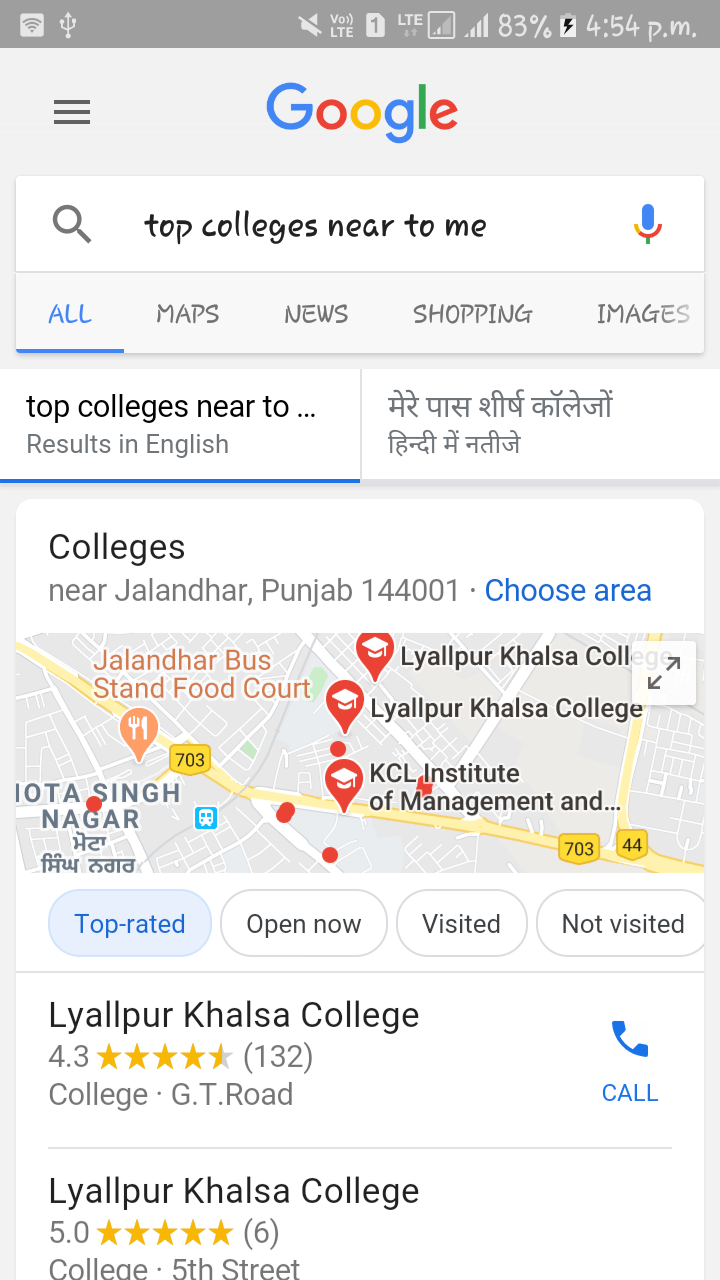 The above example I have taken by voice searching and it shows the list of colleges near my location.
From search intent to local SEO, there are various things to manage when it comes to voice search. Try to make an effective voice searching strategy that will help you to build your brand for the long-term. Ensure that you are providing direct answers to the user's questions and make use of long-tail keywords rather than using short keywords.
Difference between voice search and web search
Some points help to understand the basic difference between voice search and web search. The main difference is voice search is in a conversational tone. We use natural language and long sentences. On the other hand, in web search, we use short and basic keywords.
In web search, we focus on keywords, and the search engine will figure out the user intent. After that, the search engine provides relevant and intended results. But you will get various results and you have to go through various results until you reach the correct answer to what you are looking for.
In the case of voice searching, you just need to ask the question and search engine will bring one best and relevant answer.
Growth of voice search
Voice searching is rapidly growing day by day and it is becoming popular with all groups, especially, the younger generation loves this technology.
It is not restricted to a specific area like navigation, playlist management, phone calls, questions and answers.
It also supports various activities such as shopping, calendar management, email management and many more features are associated with it and added more every day. Voice search is becoming popular and part of everyday life.
How marketers use voice search?
Marketers use search engine optimization (SEO) to check how voice searching affects Google ranking all year. Basically, marketers are using the voice searching method but they don't consider it to be an important factor for ranking right now. It can be used within an SEO strategy but not the main priority. Most of the Google voice assistant uses natural language instead of using typical keywords. Some content is optimized which will correspond to the conversational expression.
When a user uses this method for a query then Google brings the accurate and reliable answer from the featured snippet without clicking on the website. In the end, SEO experts are trying to optimize for conversational search.
Challenges in voice technology
If your website is not user-friendly then voice search will not be able to provide you results. Right now, most of the users use voice searching, approximately 20% of users use this method for their queries and it will increase in the future. If your website has uncrawlable resources then it might be difficult or not suitable for your mobile browser as well as if your website contains large images then it will take some time to load.
Due to these factors, you will lose your customers, because 40% of users leave the page or website if it takes longer time to open. It has been predicted that in the future most of the searches will come from smartphones. So, try to make your website mobile-friendly.
How voice search is being used by people?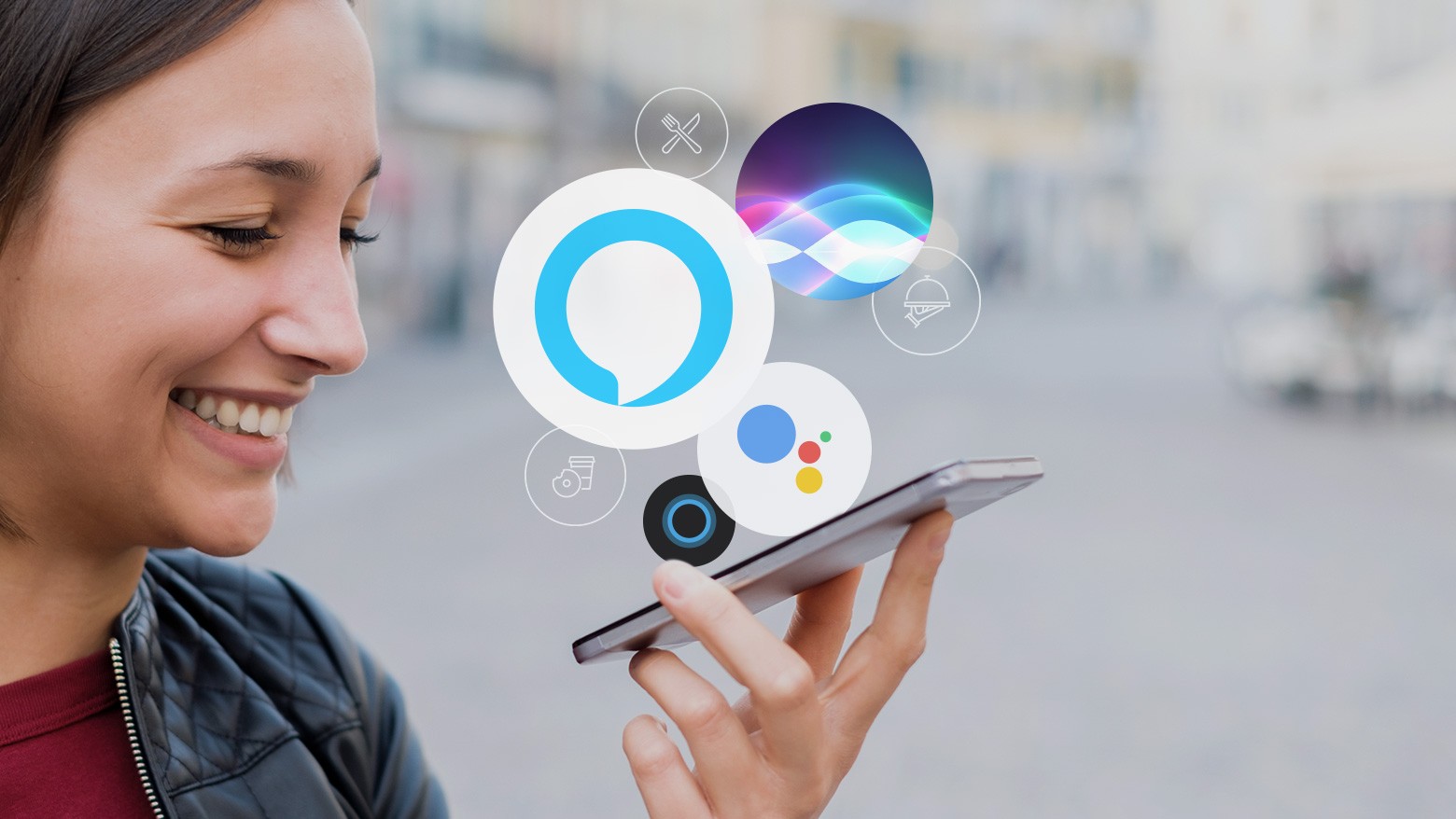 As we know that most of the voice searches are in a conversational tone. With this, voice searches are increasing day by day and most of the questions come under four categories such as local information, personal assistance, fun and entertainment and general information.
In addition to this, voice searches come from mobile devices and they are for local perspective since people search for a service or store near them.
Most of the voice searches are performed by teenagers and adults. They mostly search for: call someone, search for directions, play music, time check, and check for movies time etc. these are common searches performed by youngsters.
Search engines provide answers from featured snippets most of the time. A featured snippet is one of the relevant answers that appear at the top of the search engine result pages (SERPs).
How effective will voice search be?
Voice searching will be very effective in the future. Anyone having a physical disability will be able to get an answer to their questions by using voice search. Voice searching will not hinder them from accessing the information they want from the internet.
Voice searching is more preferable by those people who have a busy schedule and they avoid writing the query on the search bar, they simply use voice search. Voice search will be easy and suitable medium for those people who are working in a demanding career and it has been predicted that voice search will be adopted by almost everyone.
It can be seen that speaking at an average of 150 words per minute will be fast as compared to writing 40 words per minute. It makes voice searching super fast as compared to manual searching.
In the first instance, it was difficult for voice searches to provide an accurate and intended answer because the accuracy of voice recognition was very low. However, now this problem has been resolved now you can get accurate and intended answer to the question.
Future of voice search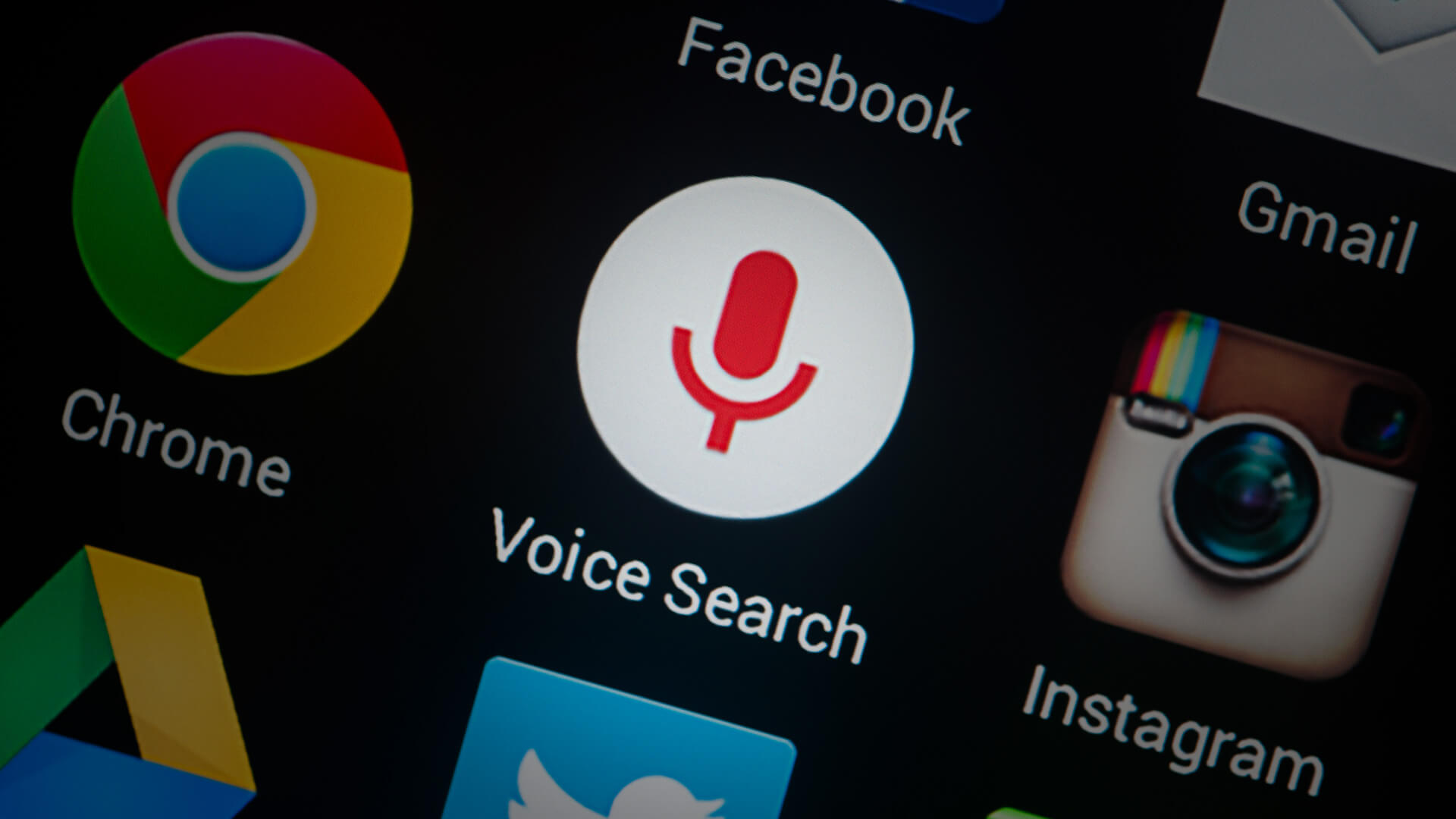 As we know that voice searching has not been used by all people, but 20% of users are adopting this method. Voice search doesn't seem to be adopted by universally, right now. But maybe it will be adopted by all people in the future.
Various marketers are trying to optimize voice searching for their websites. They are optimizing for natural language, improve online user experience as well as accurate and relevant business information.