Why Social Media Marketing is Important in 2020?
Social Media has become the most important key element of digital marketing that offers fabulous and enormous advantages to businesses from small to large. When it comes to social media marketing, all we know is an ever-changing game, and it is dynamic, and all you need to do is keep updating your tactics regularly. Furthermore, if you are still not using social media for marketing purpose, you are missing a lot of opportunities to be on the top.
Social media is a platform that offers your business a great opportunity to boost your sales, increase your brand awareness as well as reach your target audience. If you want to lead and beat your competition on social media, you need to prepare yourself and stay one step ahead.
This is the reason why you should make a strategy for social media marketing in 2020 and why you should consider all aspects that are important in social media marketing in 2020.
To make it more clear what exactly social media marketing is, I would like to describe it into a few words so that no one gets confused while reading a further post. Let's get into it:
# What Exactly Social Media Marketing Is?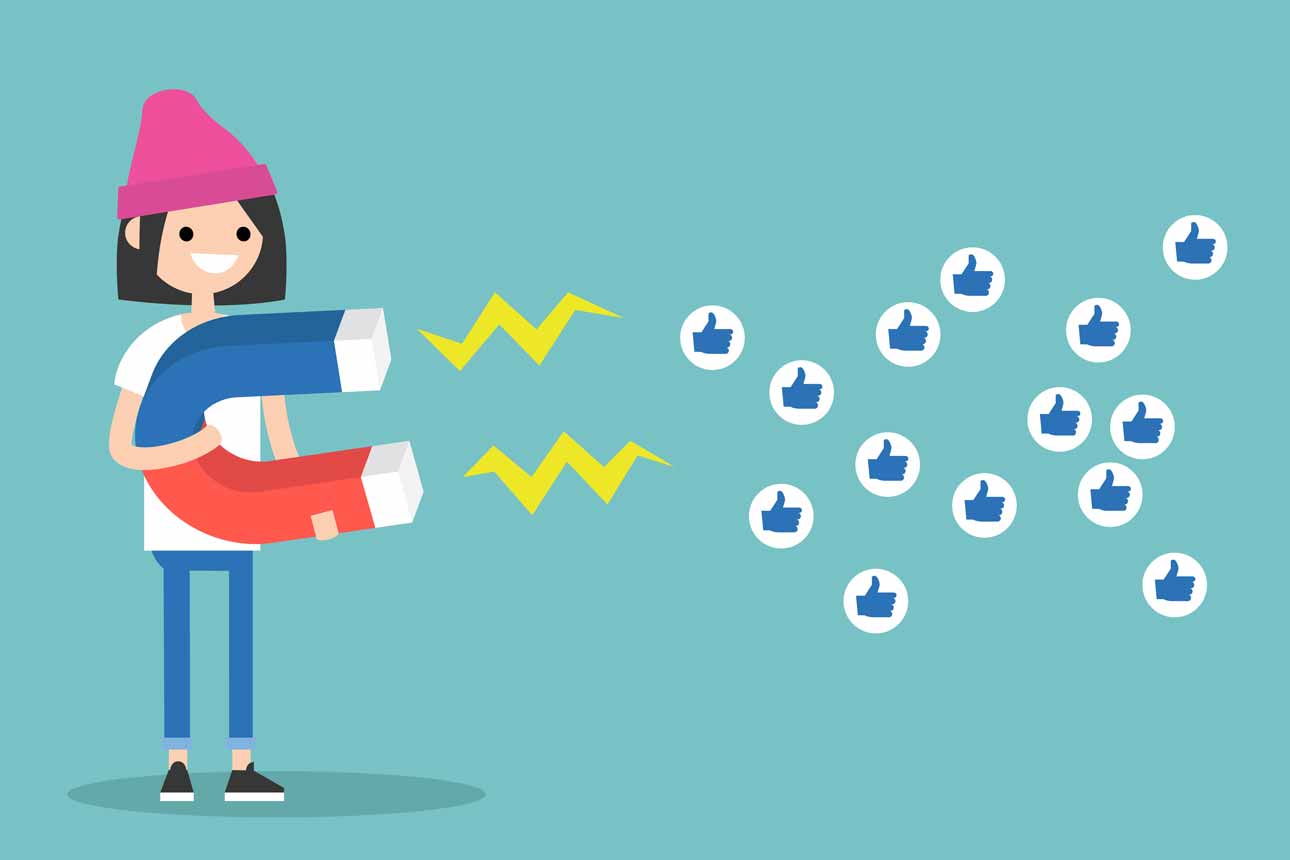 Social media marketing refers to the advertisement of your business on social media platforms such as Facebook, Instagram, Twitter, LinkedIn, and Pinterest, etc. to increase your product's sale, brand awareness, and boost website traffic as well as customer acquisition.
Generating high-quality content in the form of text, videos, and images would help your business to receive high engagement and shares. Your content should be highly relevant and visually impressive so that people share it with their friends and you get a high volume of traffic on your social media account.
I hope it would be enough to understand what exactly social media marketing is. Now, we will move to our today's main topic that is…..
# Why social media marketing is important in 2020?
The following are the key points that tell why social media marketing is important for any business in 2020 and beyond:
1. Your customers are using social media channels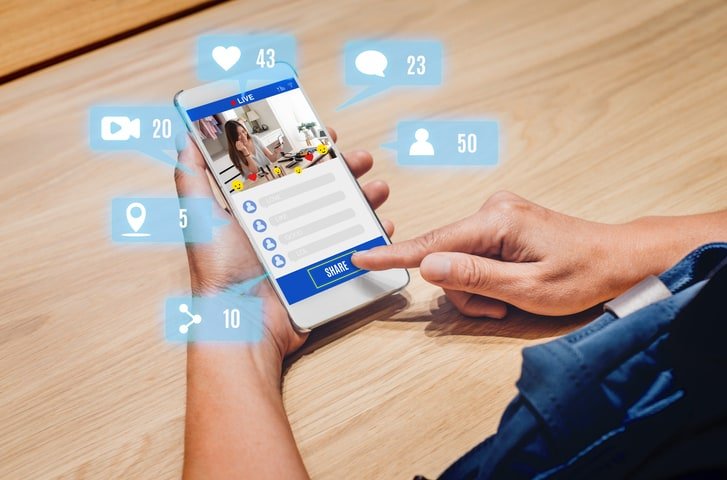 The basic and primary reason why social media marketing is important in 2020 is that everyone is using social networking sites. Most of the users spend their time on social media channels, and plenty of users are also increasing day by day. With so many users using social media every day, this indicates a great opportunity for every business person to reach their target audience.
Unlike traditional marketing strategies, social media marketing is on the rise. And this is the reason why social media marketers need to grab this opportunity to promote their services to a larger audience, and they can have massive results out of it.
Social media platforms are an easy medium for businesses to reach their online audience and communicate with them.
If you are not using any social media channel, you are missing an important opportunity to connect with your customers and generate new leads.
2. To increase brand awareness
With the help of social media channels, you can grow your brand awareness. For this, you should need to follow the below points:
– Grow brand recognition
When you start a business, you probably make an effort to gain your brand recognition, and it is one of the most important marketing goals. Having greater brand recognition will help you to increase sales because customers often want to buy brands they recognize. So, here social media helps in effective brand building.
Social media is overtaking traditional method of marketing because it can easily help you to get your brand in front of people and it gets your target audience looking at your brand even they are not searching for it.
While promoting your services or products on social media make sure your brand name or a visual element of your brand is represented in an attractive manner.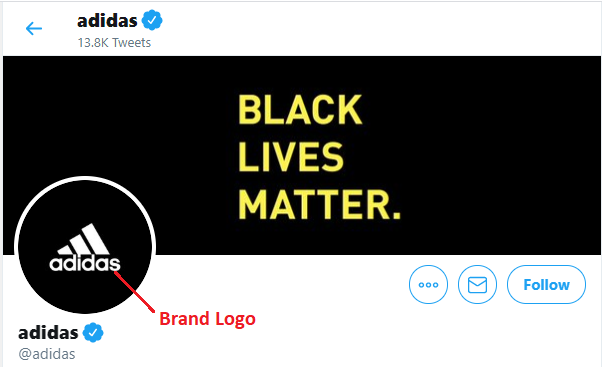 Look at the above example, it is a twitter page of "Adidas" and it represents a simple logo of their brand. You can also use your brand logo on your profile, and you can also insert it into your images to relate it with your brand.
– Generate more conversation around your brand
If you have created a strong social media marketing strategy, then absolutely it will generate conversation about your brand, partners, and products.
Now look at the below example, how many likes and Retweets it got on a single post, only because of the popularity of the brand: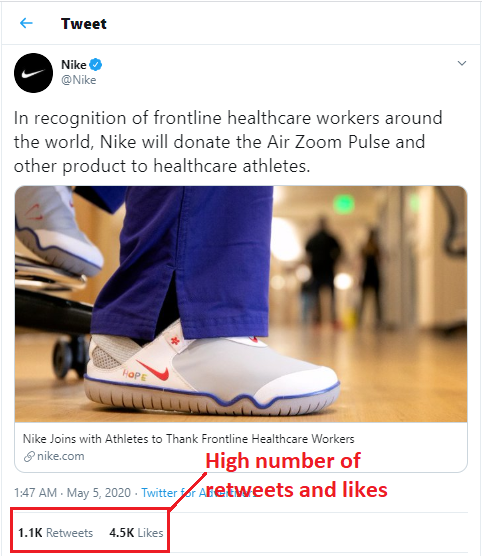 With the increased popularity of their brand, they got a great amount of feedback about their products from their audience.
3. To enhance communication with customers
Having a social media channel, you can easily interact with your audience, and this direct communication between your brand and your users will be beneficial for both of you to know more about each other.
It helps to enhance communication with customers, and you can take help from it to improve your social media marketing strategy. Users stay online on social media platforms to keep in touch with their relatives and friends and to know what is happening in the world and keep themselves up-to-date.
Users or customers follow their favourite brands so that they can get useful information from these social media campaigns. One key benefit of using social media for marketing purpose is that it allows you to be more interactive and communicative, and it helps to offer a different side of your brand.
Many brand owners find social media channels as an easy medium to interact and communicate with their customers to know their audience better. This is the main and interesting method to know more about your audience taste and interest, and it helps you to build a trustworthy relationship with your audience.
Rather than just delivering direct messages to your customers, you can make a reliable connection with your customers and leads on social media. This is where your audience will be more responsive.
To be communicative with brands, most companies conduct Q&A sessions on Instagram stories to know more about their audience. Similarly, you can also do this to interact with your audience.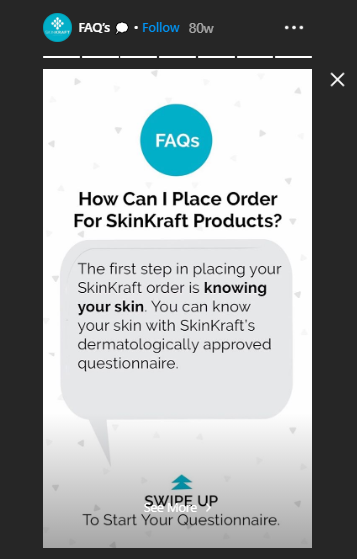 4. To increase your inbound traffic
After developing a website, it is necessary to gain website traffic that will lead to more conversions. So, social media is the platform from where you can gain traffic and direct it to the website of the business organization. Inbound traffic is the most essential aspect that shows why social media marketing is important.
If you are not using social media platforms, then your leads are restricted/limited to those people who know your brand and people who get your brand by browsing for ranked keywords.
And, with the addition of social media platforms, you can get higher traffic and more conversions. It is quite difficult for you to publish that content, which can engage more people and adds value to your target audience. If you are generating more valuable content on social media platforms, then there will be more chances for your business to gain new leads and direct them to your website.
Social media is a long-term strategy. With the help of social media marketing strategies, you can open your business to a wider range of flexible users and around the world.
5. Wallet-friendly
One of the best benefits of social media marketing is that it lets you reduce marketing costs without sacrificing performance. If you want to get the best results, ensure that you are making all efforts and delivering high-quality content and communicating with your followers.
For many social media sites, sign-up and creating a profile is free of cost and if you want to choose paid ads to engage more customers, then you can easily do it as it is comparatively low as compared to other marketing strategies.
Opting for social media marketing is going to be cost-effective, and you can invest a larger budget on other businesses and marketing expenditures. You just need to invest your valuable time and money to get a return on investment on the money that you paid.
It is a cost-effective way to display paid ads on social media platforms such as Twitter and Facebook, and it will depend on your priorities and the reach of your campaign.
6. Helps to boost search engine ranking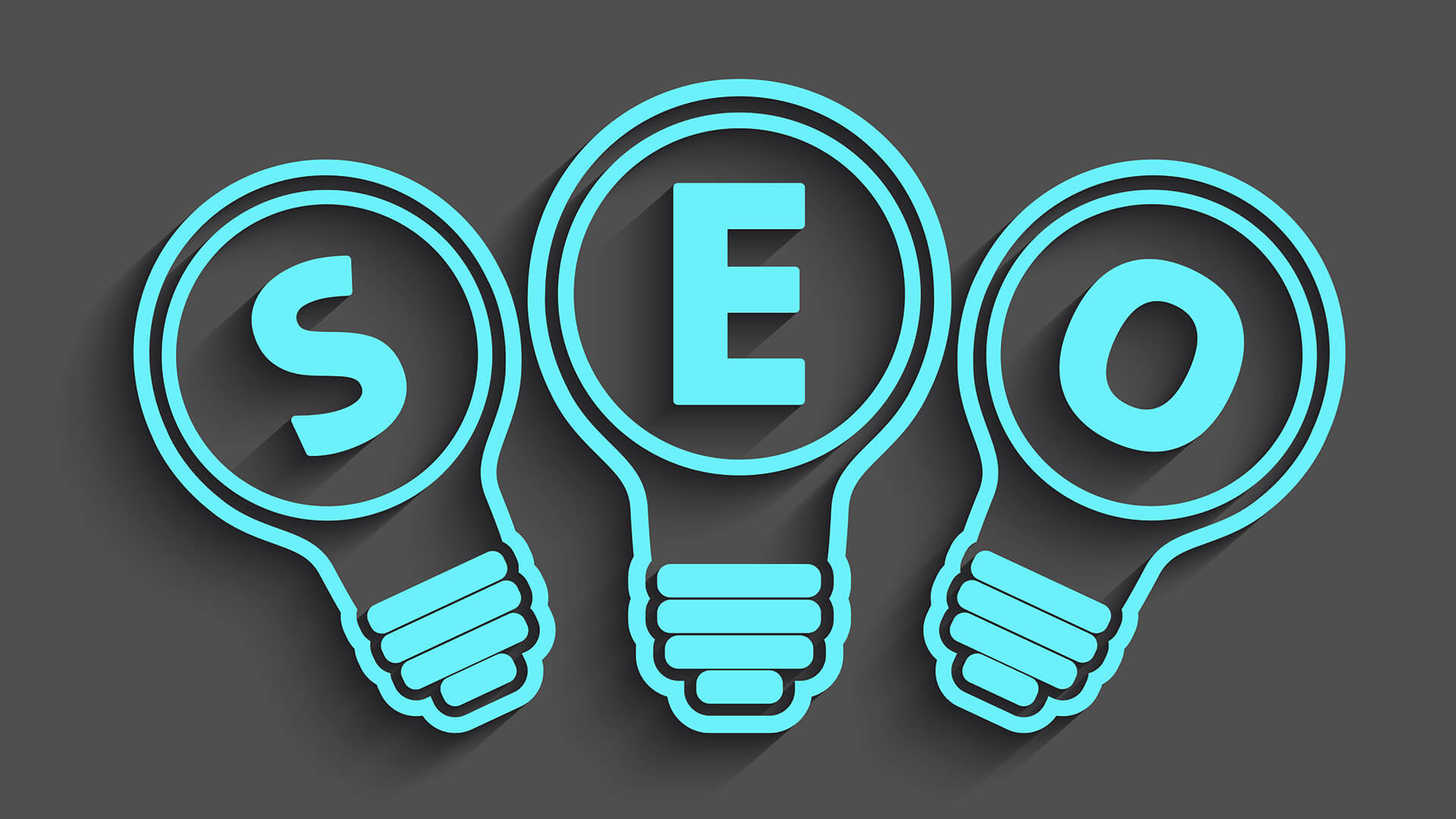 Getting a higher ranking in search engines and a high volume of traffic on the website is very critical. On the other hand, social media platforms don't boost search engine ranking directly, but it will help you to obtain a higher ranking on search engine result pages.
One of the best methods of obtaining high ranking is by producing high-quality content that helps to integrate keywords to allow you to rank better in the search engines through social media.
To make your social media profile interesting and reliable, ensure you post case studies, business information, blogs, and Infographics. Having a successful brand will have a good impact on social media, so having your business or brand a strong presence on social media will be an indication to search engines that your brand is trustworthy and worthwhile.
As you know, ranking criteria are continuously changing, so it will be safe to be active on social media because ultimately it will help you. Not only your social media presence influence your search engine ranking, but it is essential to notice that your social media profile will most likely to appear at the first page of the Google when users search for your brand.
It's important to not only regularly publish your appealing content on your social media profiles, but it is also important to check your account information periodically and make updates and adjustments as appropriate, this is because if a user clicks on your social media account and notices that they are outdated, then they may decide to take their business elsewhere.
7. To gain more conversions
The most essential factor for any business is to get a higher conversion rate. Despite increasing brand awareness, social media marketing is a vital aspect that helps in gaining more conversions.
By creating a report with your customers and leads and publishing valuable content regularly, your brand will improve reliability and trust that leads to more conversions.
If you succeed in building trust with your customer by interacting with them, you can convert interested leads into happy customers.  Social media is a platform where your customer can interact with each other and businesses can show their brand's human side by delivering pleasant conversational content that lets each company showcase their character and worth.
The most essential aspect of social media that will help to generate more conversion is the ability to bring brand marketing to a more human component. People chose to do business with other people over corporations. For this, social media offers a great opportunity. If you are succeeded to make a good impact on your followers, they may start thinking about your business when they need any service or product you offer.
If you successfully bring your brand in the environment where your audience share, like and chat, will help you in increasing your current traffic conversion rate.
8. To enhance brand loyalty
Another aspect that shows how important social media marketing is for your business is that it enhances the brand's loyalty. Social media is a place where you can interact with your customers and leads to increase and improve your brand's trust and loyalty.
Social media is not just a platform where you can only promote and sell your services or products of your brand, but it is a platform that allows you and your customers to interact with each other.
If your brand succeeds in reaching current customers and target audience, then you can enjoy higher customer loyalty. If you are engaging with your customers and leads, then you can easily build a strong customer relationship. This thing can help you to show your customers and target audience that how your brand is different from others.
By communicating with your target audience via relevant, compelling content and conversation, you can turn your happy customers into brand ambassadors.
9. Helps to target and re-target ideal consumers
Social ads can do a lot to match the organic campaigns that you are conducting on your social media channels. With ideal targeting capabilities, social media channels platforms like Facebook helps you target your ideal customers/buyers that help you to drive more website traffic. This is the best method to achieve more than you spend.
With the help of Facebook ads, you can recognize your new ideal leads by defining your ideal customers via ads platform. And, Facebook lets you deliver your ad content to those who show the same behaviour as your target audience does.
You can also enhance results as you drive more relevant traffic to your brand site, no matter what your ad targets may be.
10. It can help you improve your brand authority
Social media marketing helps to improve your brand authority. This is a significant aspect of positioning your brand effectively in the marketplace as a leader. The more relevant and valuable content you publish on your social media channel, the higher chances you'll have to show your expertise to your customers and leads.
When you drive more traffic on your social media channels and produce relevant content to your target audience and if they find your content interesting, then they will absolutely share it with their friends and family, or they will mention your brand in their posts, and this thing will help to build your brand authority. The more your audience talk about your brand on social media, the more your brand will seem trustworthy to others.
This thing will help to encourage your new audience to see what your brand is all about and even they will start to follow you for more updates and insights.
11. You can gain new customer insights
One of the most valuable and interesting advantages of social media marketing is that it gives you an opportunity to gain new customer insights.
While interacting with your customers and leads, you'll be able to see what your customers are interested in and what drives them here. With the help of social media as a tool for research, you can get information that can help you to understand your niche.
Monitor the activity of your customers to know more about them, that what your audience is talking about on social media, and with this, you will have a better understanding of what they most care about. For example, with social media listening, you can identify what are the challenges your customers face, and they concern about so that you can start publishing content around that specific topic.
Apart from this, you can also use social listening to see what are opinions and views of your customers about your brand, so that you can utilize this information to improve customer satisfaction.
With the help of social media, you can monitor your customer's online behaviour. For instance, on Facebook, you might use an analytics platform to monitor what type of content is most popular among users. You can also identify and measure your conversions for posts and ads across all platforms to see which campaign is doing well and which doesn't or need a little more improvement.
12. Helps you reach a specific audience
You can target different audiences based on the social media platform where you are active. Instead of just putting marketing message for everyone, you can reach your specific audience and work to generate more leads back to your site.
To make it simpler, you can create a list of your audience demographic values, the more detail it contains, the better it will be. This can include their gender, location, age, interests, hobbies, and brand they follow, etc. If you know all of this, it will be easier for you to reach out to your target market. In addition to this, it will also help you to create content that can drive traffic and generate more conversions. The more relevant traffic will be, more likely to boost conversion rates.
Irrespective of who you are trying to reach, you can find your target audience on any popular social media platform that users are using every day.
One of the best methods of reaching your target audience is by spending your time, money, and efforts on specific channels. First, decide on which social media channel you want to search your audience and invest your money and time.
13. Your competitors are using social media for marketing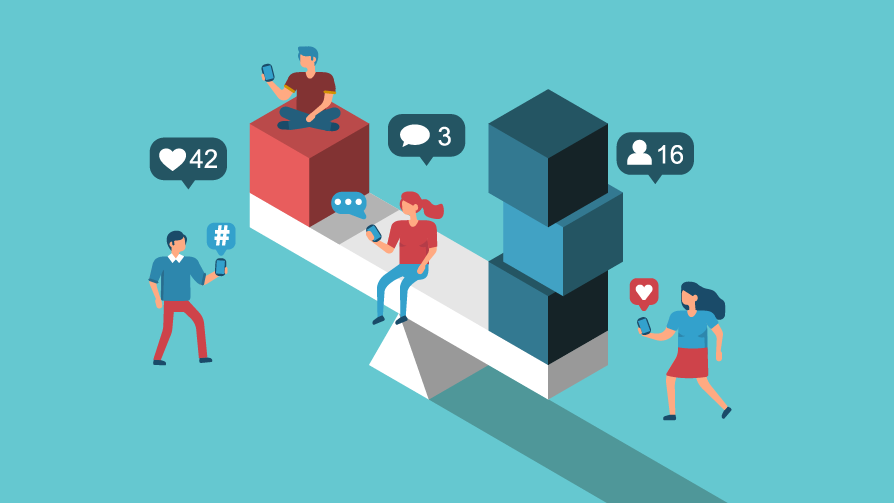 Irrespective of what industry you are in or who your target market is, there are high chances that your competitors are also using social media channels for marketing their brand. This does not only prefer that you should use these social media channels, but it means your target audience may talk with your competition as we do.
If you want to maintain your brand in the digital marketplace, then it is important to build your presence on social media channels. This is the best method to promote your services and drive more traffic on social media channels as well as to your website.
14. Your customers might be looking for recommendations on social media
Mouth-referral marketing is one key tool that is used by almost every business owner to promote their services and products. Not only it is free, but it helps to run your marketing criteria and build trust with your new leads. When social media marketing comes, then we can say that it is a new outlet for word-of-mouth marketing.
Now, with the help of social media channels, brands can encourage their followers or customers to leave a feedback on their social media accounts, suggest their brand to their relative and friends on social, or offer testimonials.
And, all of us know that customers buy that product which contains good feedback and recommendation. It is not necessary to get feedback from family and friends if your brand is having online reviews even then your customers would love to buy your products or services.
Not only your customers trust online reviews, but they often prefer checking out online reviews before making any purchase.
Now, you have an idea of why social idea marketing is crucial for your business in 2020 and beyond. All of the above points need to implement if you want to run a successful business. Now, the question arises, how social media can be utilized to promote any business? To answer this, I've gathered some points that can help you to effectively promote your business.
# How to effectively promote your business on social media in 2020 and beyond?
With the help of social media, customers and businesses both can communicate with each other. Both can ask questions, repost each other's content, and build a strong relationship. Now, let's discuss the significant points that play an important role to promote your business on social media:
15. Choose the right platform to create your profile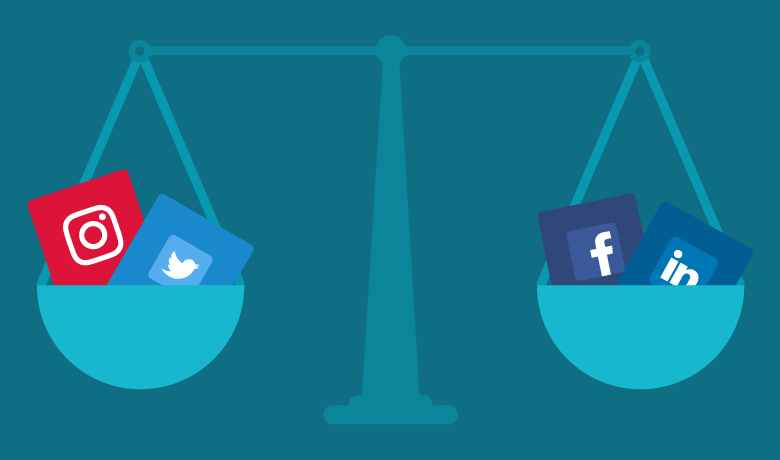 As you know, there is no shortage of social media platforms on which you can promote and share your content. Plenty of social media sites are growing every day. It is important to share your valuable content on the right platform. So, while choosing any social media platform, make sure it is right for you as you can choose as many as you want.
When you are about to choose a social media platform you can consider your business and target audience where they mostly visit because it is crucial to choose that specific platform that is used by your target audience so that you can easily communicate with them.
Purpose of your marketing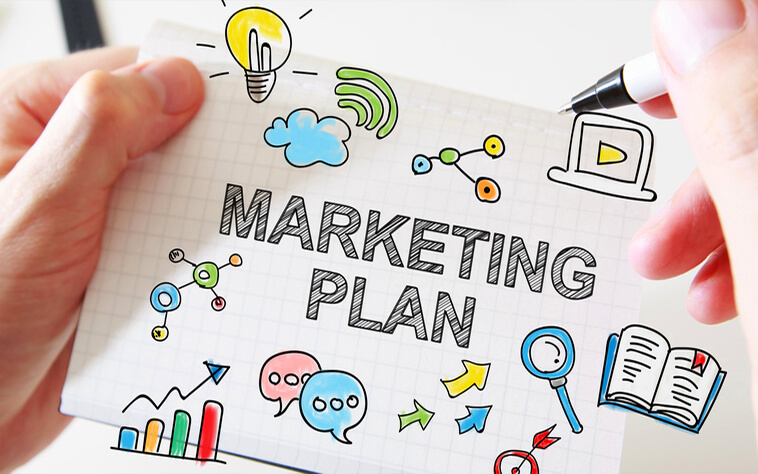 Before publishing any content, make sure you have decided your marketing goals. Maybe you want to generate leads, build brand awareness, or engage customers. No matter what your marketing goals are, but make sure you have already worked on your marketing goals so that it will be easy for you to come up with the content you want to post.
If you already know what your goals are and what to want to accomplish with your content, you'll know what will be suitable for your business to post to achieve those goals.
Create a calendar
When you scramble to create and publish a post at the last minute, then there are higher chances that you'll produce low-quality content. And when your posts are not organized properly, then it can lead to repeated posts. So, to eliminate this problem, you can create social media content calendars. Content calendars help you to create goals and make strategies for meeting them and monitor your progress toward them.
Post valuable content
Once you have created social media accounts and listed your marketing goals, now you are ready to publish a post on your social media account.
Suppose, someone visits your profile, and the most recent post was from 2 weeks ago, they will not follow you. Another thing that needs to consider is all the people that already follow your business page. They are not on your page just because they want to know what you're up to, but you need to publish new content that will appear on their homepage and divert their attention on your post.
Another easy method to grab your users' attention by repurposing previously published content. Suppose you have a YouTube channel and you have published posts there, now you can use the same post on another channel. Also, respond to your customer through comments as well as direct messages.
Reach your target audience with the help of Social Media Marketing
If you want to take advantage of social media, then you should need to be interactive and target your audience to know their interests and taste.
Publish content that like by your audience, conduct Q&A session, re-post, and comment on other users' posts. Do research on your target audience to know more about them what they like to read etc. so that you can post content that they like to read most.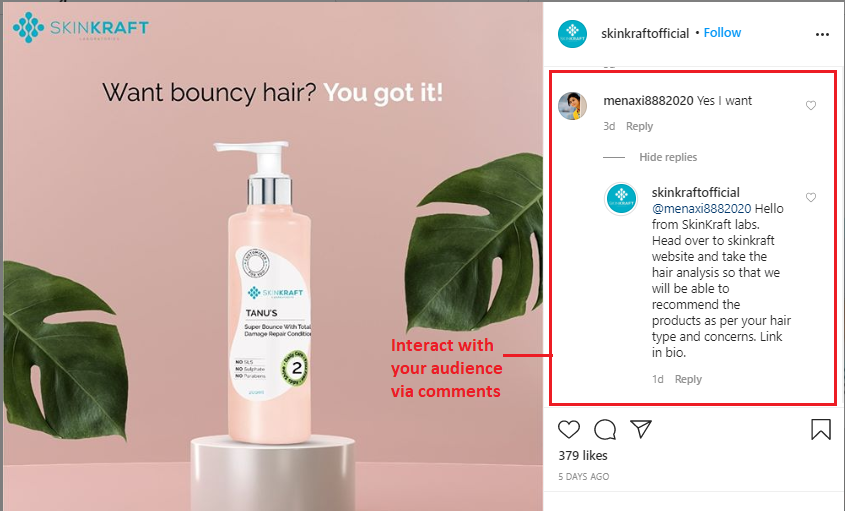 Not to sell too hard
Of course, companies use social media for marketing purpose, but selling your product too hard is not a good idea. One mistake that is often done by businesses that they use social media too much for advertising. Instead of doing this, you should create content that your audience love to read and want to see more.
Promoting your business is okay once in a while, but going over-board is not appropriate for your business. Promote your business, but be careful not to sell too hard.
Post video content
All we know, visual content works very well on social media, and users love to interact with visual content. Visual content is suitable for grabbing the attention of your target audience, and it is the best method of conveying your brand's message and passion to your customers.
Visual content is most liked by customers when they scroll for more posts, so they view it and engage with it. It also allows you to say more than you could through a typical post, so visual content helps a lot to convey your message to your audience.
Answer to the public
Receiving positive feedback on social media is very important, but unfortunately, if you get negative feedback or any question from your customer, then don't hesitate to answer them. Try to answer them and clear their doubts and determine what kind of issues they are facing and solve them.
If you identify any issue, then interact with your customer by publicly apologizing if needed and provide its solution over a direct message exchange.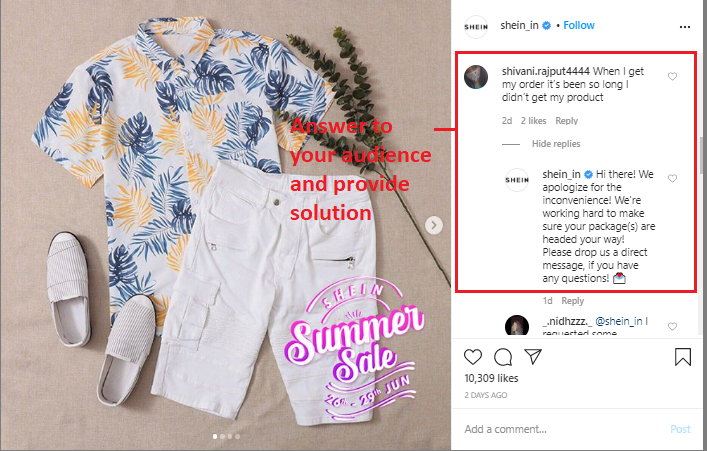 Build a community
If your only goal is to achieve maximum followers, then maybe your strategy is not going to work further, because getting followers who are actually interested and loyal is going to work. So, it is recommended to target those customers who actually want to read your posts and want to see more posts.
When you successfully build a community around your brand, the people who follow you will start engaging with each other and help your brand to promote your content. Another idea of expanding your brand is by asking your followers to give reviews about your product and mention you in their posts.
# Conclusion
Social media marketing is a tool that helps businesses to reach their customers, generate sales, engage users, and most importantly promote their brand. Opting right social media marketing strategy will lead to increased traffic, improved conversion rates, enhanced brand loyalty and authority, better SEO, and much more.
Social media is a platform that is at the top, and being a business owner, if you are not using this to market yourself, you are missing a lot of opportunities. Use it to promote your brand and increase your brand awareness and enjoy the taste of success.